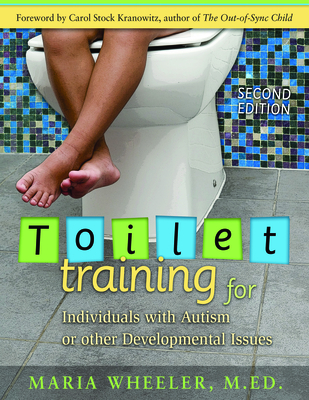 Toilet Training for Individuals with Autism or Other Developmental Issues
Second Edition
Paperback

* Individual store prices may vary.
Description
Toilet training can be a battleground for parents and children. In this book--the only one on the market dealing with the specific issues involved in toilet training children with autism--Maria Wheeler offers a detailed roadmap for success, based on over twenty years of experience. Easy-to-read bulleted lists offer over 200 do's and don'ts presented, along with more than fifty real-life examples. Learn, among other things, how to gauge "readiness," overcome fear of the bathroom, teach how to use toilet paper, flush and wash up, and deal with toileting in unfamiliar environments. A life preserver for parents and reluctant children
Helpful chapters include:
The Importance of Toilet Training Determining Readiness Developing a Toileting Routine Communicating the Need to Use the Toilet Toileting in Unfamiliar Environments Nighttime Training Common Problems (and Solutions) Associated with Toilet Training Persons with Autism
Future Horizons, 9781932565492, 133pp.
Publication Date: September 1, 2007
About the Author
Maria Wheeler, M.Ed., has spent more than twenty years of her professional life in the fields of Psychology and Special Education, with an emphasis on Neurobehavioral Disorders, Applied Behavior Analysis, and Specific Learning Disabilities. She has held positions in Florida and Texas as a special education classroom teacher, behavior specialist, and director of behavioral services for residential treatment centers serving adults and children with neurobehavioral disorders and developmental disabilities. She currently holds Texas teacher certificates/endorsements in Serious Emotional Disturbance and Autism, Special Education, and Psychology. Maria works as a private consultant serving various school districts, educational agencies, and families throughout Texas. She is a nationally recognized speaker and trainer in the fields of autism, behavior and learning disorders, and effective discipline. She provides on-site behavior intervention and classroom curriculum consultation for educators of students with autism and other behavior and learning disorders. She also provides on-site coaching for in-home trainers and tutors, parent training, and professional development training. Maria authored the popular book entitled, Discipline That Works for Inclusive Schools, published by RealWorld Publications. She co-authored one of the leading manuals on behavior, A Treasure Chest of Behavioral Strategies for Individuals with Autism, published by Future Horizons, Inc.