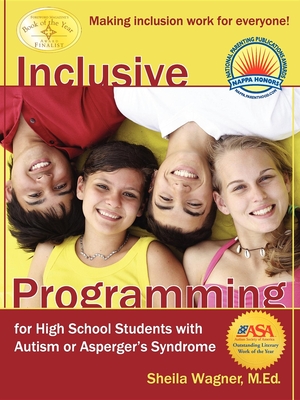 Inclusive Programming for High School Students with Autism or Asperger's Syndrome (Paperback)
Making Inclusion Work for Everyone!
Future Horizons, 9781932565577, 392pp.
Publication Date: May 1, 2009
* Individual store prices may vary.
Description
Successful inclusion in high school is critical for achieving independence as an adult Even though inclusive education is now the standard for educating students with special needs, inclusion is a still a very new process. Successful inclusion relies on flexibility of parents and educators, and their ability to work together for the sake of the student. Training, collaboration, specialized teaching, long-term planning, and a clear idea of the desired outcome for the student--these are just as important at the high school level as they were in elementary and middle school. This comprehensive guide will help you give your child or student the best possible high school experience. You will learn how to help students navigate the social minefields of friendships and dating, while fostering the executive functioning skills they will need as adults. Expert Sheila Wagner provides the strategies and solutions you'll need before, during, and after high school.
Topics include:
Transitioning from Middle School IEP Goals and Objectives Accommodations/Modifications Course Selection Developing Friendships Prom Night and Dating Bullying Graduation Requirements Zero-tolerance and Discipline Standards Driving Permits Preparing for College Employment Options Transitioning to the Adult World Planning for Inclusion into the Community
Plus many more
About the Author
Sheila Wagner, M.Ed., received her undergraduate degree in Education from the University of Wisconsin, Whitewater, and her graduate degree in Special Education from Georgia State University. Past experience in autism began at the Indiana Resource Center for Autism at Indiana University where she was an associate teacher, then demonstration teacher in the autism demonstration program and, later, an educational consultant to teachers and schools across the State of Indiana.

Currently, Ms. Wagner is an autism consultant, school consultant, teacher trainer, guest lecturer, and published author of numerous articles and books. She received the Autism Society of America's Literary Award for the first book in her inclusion series, Inclusive Programming for Elementary Students with Autism, and was named ASA's (Greater Georgia Chapter) Professional of the Year in 2002. Ms. Wagner lives in the Atlanta, Georgia area with her husband and son.
Praise For Inclusive Programming for High School Students with Autism or Asperger's Syndrome: Making Inclusion Work for Everyone!…
"Sheila's book goes a long way toward addressing the myriad of issues and positive ideas that wrap around the overarching concept of inclusion. …Thankfully, this book does an excellent job of exploring the range of topics that need to be discussed, not only with students who have Asperger's Syndrome and similar disabilities, but also with educational providers and families. Spun with humor and insight, it offers the reader a firm grasp of the issues facing our teens as they prepare for their own adulthood."

Michelle Garcia Winner, from the Foreword