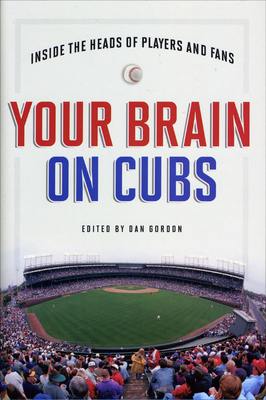 Your Brain on Cubs
Inside the Heads of Players and Fans
Hardcover

* Individual store prices may vary.
Description
White Sox fans were overcome with euphoria when their beloved team won after eighty-eight years of failure, and the long-suffering Red Sox Nation finally received their vindication in 2004. Now the Cubs are the only "cursed" team left: The team has repeatedly made the playoffs without ever winning the World Series for the last ninety-nine years, and yet thousands who bleed Cubbie blue pack Wrigley Field for every game. The reasons why ardent sports fans in Chicago and around the world buy expensive game tickets and memorabilia, fill stadiums, and live and die by their team's fortunes is the subject of Your Brain on Cubs, an engaging study that delves into why sports engender such passionate emotions in us all.
            A group of today's leading science writers and neuroscientists explore here the ways that our brain functions when we participate in sports as fans, athletes, and coaches, taking baseball as the quintessential sport for all three perspectives. The contributors tackle such questions as: How does a player hit a ninety-mile-per-hour fastball when he barely has time to visually register it? Why do fans remain devotedly loyal year after year? And what allows them to believe in superstitions, such as a curse? Other topics investigated in the book include how a ballplayer's brain changes as he gains experience and expertise, why there are a higher percentage of left-handers in the major leagues compared to the general population, and the ethical implications of neurological performance enhancement.
            An expertly written and thought-provoking read, Your Brain on Cubs challenges us to reevaluate the nature of the sports fan and the athlete, revealing the scientific complexity underlying the seemingly black-and-white world of wins and losses.
 
Praise For Your Brain on Cubs: Inside the Heads of Players and Fans…
"It is not nice to joke about a neurological affliction. Fortunately, we can now comprehend the condition, thanks to a new book, 'Your Brain on Cubs: Inside the Heads of Players and Fans,' a collection of essays by doctors and others knowledgeable about neuroscience and brain disorders associated with rooting for a team that last won the World Series a century ago."—George Will,
Newsweek
— George Will
"With their frustrating ups and downs, and nearly 100 years without a World Series win, the Chicago Cubs have been messing with the minds of their loyal fans for a long time, making that club the perfect topic for a book about the relationship between baseball and the human brain. Each of the essays in this off-beat collection explores a different aspect of baseball through the prism of neurology, and each piece relates, at least tangentially, back to the Cubs. . . . The essays are straightforward, entertaining and likely to provoke many barroom debates."—Publishers Weekly
— Publishers Weekly
"The title, implying a focus on the Cubs, may limit interest in a book that really embraces much more. It does look at devoted Cubs fans—and all baseball fans—and their 'brainy' obsession with the game, including their brains' ways of reckoning with loss. The essays are by neuroscientists and two or three informed journalists, and they are accessible to all interested readers. . . . This is for all curious readers intrigued by the intersection of baseball and the sciences and in exploring old topics in new ways."—
Library Journal
— Library Journal
"This book inspires me to imagine some kind of boutique neurosurgery to heal my brain, fatigued as it is by my team's struggles. Who knows what other ideas it might spawn?
Your Brain on Cubs
is a great read."—Aryeh Routtenberg, Departments of Psychology and Neurobiology, Northwestern University, and Department of Physiology, Feinberg School of Medicine 
— Aryeh Routtenberg
"You do not need to be a Cubs fan to like this book. It has a delightful mix of baseball lore and information about the brain.…These insights are interesting for all of us who try to acquire new skills, and many apply to experts in other skill domains, such as musical performance."—Ann M. Graybiel, Walter A. Rosenblith Professor of Neuroscience and Investigator, McGovern Institute for Brain Research, Massachusetts Institute of Technology
— Ann M. Graybiel
"
Your Brain on Cubs
is a home run to deep center field! It illuminates the game from the perspectives of both fans and players."—Bruce C. Ladd, Jr., founder, Emil Verban Memorial Society (Chicago Cubs Fan Club of Washington, D.C.)
— Bruce C. Ladd, Jr.
"It's about time the Cubs and their fans had their heads examined. This volume explores how baseball looks through the lens of brain science and vice versa. It makes for fun and provocative reading for fans of brains and baseball alike."—Carl F. Craver, Philosophy-Neuroscience-Psychology Program,Washington University in St. Louis
— Carl F. Craver
"Dan Gordon and the many contributors to
Your Brain on Cubs
have truly accomplished something rare in our society today. That is, combining solid science and intellectual pursuits with fun and games. The two certainly do not have to be mutually exclusive, and in our sports-crazed society, it is desirable, commendable, and entertaining to link intellectual achievement and fun together. Readers of this book will learn much and be entertained."--Ben Carson, Sr., MD, Director of Pediatric Neurosurgery, Professor of Neurological Surgery, Oncology, Plastic Surgery, and Pediatrics, Johns Hopkins Medical Institutions
— Ben Carson, Sr., MD
Dana Press, 9781932594287, 150pp.
Publication Date: March 14, 2008
About the Author
Dan Gordon is managing editor of Dana Press in Washington, D.C. A native of Normal, Illinois, he has been a Cubs fan since age six.  
or
Not Currently Available for Direct Purchase