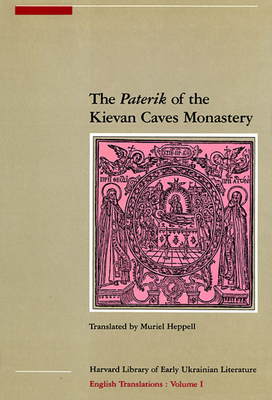 The Paterik of the Kievan Caves Monastery (Harvard Ukrainian Research Institute Publications #76) (Paperback)
Harvard Ukrainian Research Institute, 9781932650075, 316pp.
Publication Date: March 31, 2011
* Individual store prices may vary.
Description
The Kievan Caves Monastery was for centuries the most important Ukrainian monastic establishment. It was the outstanding center of literary production, and its monks served throughout the territory of Rus' as bishops and monastic superiors. The most detailed source for the monastery early history is its Paterik, a thirteenth-century compilation containing stories reaching back to the monastery's foundation in the mid-eleventh century. Muriel Heppell now makes available the first complete English translation of the Paterik. With an introduction, map, and several appendices, Heppell discusses the work's Byzantine background and also sets it in its historical context.
The Harvard Library of Early Ukrainian Literature is one portion of the Harvard Project in Commemoration of the Millennium of Christianity in Rus'-Ukraine sponsored by the Ukrainian Research Institute of Harvard University. The Library encompasses literary activity in Rus'-Ukraine from its beginning in the mid-eleventh century through the end of the eighteenth century. Included are ecclesiastical and secular works written in a variety of languages, such as Church Slavonic, Old Rus', Ruthenian (Middle Ukrainian), Polish, and Latin. This linguistic diversity reflects the cultural pluralism of Ukrainian intellectual life in the medieval and early-modern periods. The Library consists of three parts: Texts, which publishes original works, in facsimile whenever appropriate; English Translations; and Ukrainian Translations. Each volume begins with an introductory essay by a specialist. The two translation series also include maps, appendices, and indices. A cumulative index to the entire Library is planned.