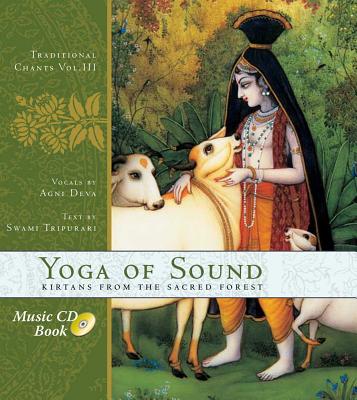 Yoga of Sound (Hardcover)
Kirtans from the Sacred Forest
Mandala Publishing, 9781932771954, 64pp.
Publication Date: April 20, 2007
* Individual store prices may vary.
Description
Since ancient times, humankind has known the soothing and purifying power of music. Today, we too often forget the unifying spirituality of sound, allowing it to clutter our lives but never hearing its true and transcendental beauty. Here, the renowned Agni Deva offers traditional chants not as accompaniment to life but as a pathway to holiness. In speaking the name of God, one finds God incarnate in sound and brings the light of God into the world. The many names of gods in Vedic literature each represent a path to liberation, if one is able to utter them with consciousness and dedication. Yoga of Sound is an invitation and portal into a vast, beautiful world of traditional song to be listened to, not merely heard. It includes a CD of traditional kitrans and an introduction by Patrick Bernard, the creator of Sublime Relaxation and author of The Secret Music of the Soul.
About the Author
Renowned for his sweet Gaudiya style kirtan, Agni Deva sings traditional songs with cross-over accompaniment. Agni Deva was born in Trinidad and moved to New York in his youth. His study of Vedic philosophy led him to discover the devotional music of West Bengal. In 1972 he began publicly performing bhajan and kirtan in the traditional Bengali style. He later toured with the South Asian Cultural Exhibition performing on university campuses across the United States and continues to perform today.
or
Not Currently Available for Direct Purchase