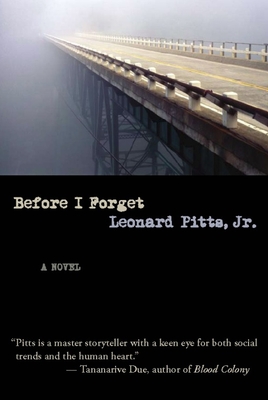 Before I Forget
Paperback

* Individual store prices may vary.
Description
This powerful novel of three generations of black men bound by blood -- and by histories of mutual love, fear, and frustration -- gives author Leonard Pitts the opportunity to explore the painful truths of black men's lives, especially as they play out in the fraught relations of fathers and sons. As 50-year-old Mo tries to reach out to his increasingly tuned-out son Trey (who himself has become an unwed teenaged father), he realizes that the burden of grief and anger he carries over his own estranged father has everything to do with the struggles he encounters with his son. Part road novel, part character study, and part social critique, and written in compulsively readable prose, Before I Forget is the work of a major new voice in American fiction. Pitts knows inside and out the difficulties facing black men as they grapple with the complexities of their roles as fathers.
Praise For Before I Forget…
PRAISE FOR LEONARD PITTS, JR.'S NOVEL BEFORE I FORGET:

"Pitts is a master storyteller with a keen eye for both social trends and the human heart." Tananarive Due, American Book Award winner, author of Blood Colony

"[Before I Forget] is a beautiful, tragic and riveting work." Marilyn Dahl, Shelf Awareness--selected as one of top ten novels of 2009

"In a seamless transition to fiction, Pulitzer Prize-winning columnist Pitts Jr. (Becoming Dad) delivers an unsettling, compelling first novel about secrets, illness, and the role of African-American men in society and family life.... Bold in spirit and scope, this is a rare, memorable debut that should net Pitts a wide new expanse of fans." Publishers Weekly

"A gripping story of regret, revenge, unconditional love, acceptance, and ultimately forgiveness." Atlanta Daily World

"Laced with taut dialogue and description in a journey of self-discovery and an intense multigenerational pilgrimage." AOL Black Voices

"Tough and tender, Before I Forget is the kind of novel seldom seen anymore, one that tackles the big themes [of] life, death, [and] love head-on, and is at the same time a great read." Miami Today

"Before I Forget is a man's story, and Leonard Pitts, Jr. tells it with all the truth and passion we don't always have the courage or confidence to express. I saw myself in this mighty book, strong and weak, but mostly human." Eddie Levert, Sr., lead singer, The O'Jays, and author of I Got Your Back: A Father and Son Keep It Real About Love, Fatherhood, Family, and Friendship

"Leonard Pitt's powerful depiction of memory loss explores the complexity of the relationship between fathers and sons in an emotionally gripping, must-read journey." Lyah Beth LeFlore, author of Last Night a DJ Saved My Life

"I have been reading Leonard Pitts's work for 30 years. he is a one-of-a-kind storyteller, as he proves again with Before I Forget. This is a terrific book!" J. Randy Taraborrelli, author of Diana: Call Her Miss Ross


PRAISE FOR LEONARD PITTS, JR.:

"Leonard Pitts, Jr. is the most insightful and inspiring columnist of his generation." Tavis Smiley

"He refuses to be predictable or to rest on his considerable laurels. He is funny when you think there's not a smidgen of humor to be found, enraged at the very moment we thought we no longer cared, and he shakes us up just when we're so certain we have it all figured out. In other words, he makes us better for having read him. What a gift. In sparse, often electric prose, Pitts challenges us to be bigger than we thought possible, and then shows us how to get there." Connie Schultz, Cleveland Plain-Dealer

"As a long-time reader and admirer, I find there is only one thing to question about Leonard Pitts being awarded the Pulitzer Prize: What took them so long?" Bob Costas


PRAISE FOR LEONARD PITTS, JR.'S BECOMING DAD:

"This is a book about black men and fatherhood. But it is also much more....Pitts writes with a sensitivity and an eloquence that illustrate how these problems transcend race and gender. A must-read for anyone who has ever had a father--or has not." Miami Herald
Agate Bolden, 9781932841435, 336pp.
Publication Date: March 20, 2009