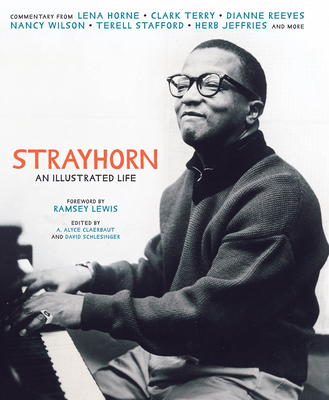 Strayhorn (Hardcover)
An Illustrated Life
Agate Bolden, 9781932841985, 208pp.
Publication Date: October 27, 2015
* Individual store prices may vary.
Description
"This lush paean to the composer explores the challenges he faced of being both black and gay, and his commitment to his own four freedoms." --The New York Times Strayhorn: An Illustrated Life is a stunning collection of essays, photographs, and ephemera celebrating Billy Strayhorn, one of the most significant yet under-appreciated contributors to 20th century American music. Released in commemoration of Strayhorn's centennial, this luxurious coffee-table book offers intimate details of the composer's life from musicians, scholars, and Strayhorn's closest relatives. Perhaps best known for his 28-year collaborative role as Duke Ellington's "writing and arranging companion," Strayhorn has emerged in recent years as an even more meritorious force in shaping the jazz canon. Strayhorn begins by describing Billy's abusive upbringing and early success, and goes on to cover his music, family, intellectual pursuits, involvement with civil rights, and open homosexuality. Strayhorn features contributions from Strayhorn's biographer David Hajdu, film director Rob Levi, music scholar Walter van de Leur, as well as commentary from jazz greats like Lena Horne, Clark Terry, Dianne Reeves, Nancy Wilson, Terell Stafford, Herb Jeffries, and more. With lush photography and rare memorabilia like handwritten scores, this is a book to be treasured by jazz aficionados and music lovers everywhere. Enthralling and visually captivating, Strayhorn: An Illustrated Life lauds a beloved jazz legend and captures a prodigious legacy that will influence generations to come.
About the Author
A. Alyce Claerbaut served as an administrator at Northeastern Illinois University until her retirement in 2002. She is the president of Billy Strayhorn Songs, Inc., a family-owned music publishing company. Claerbaut has sung professionally and is an active jazz advocate and promoter. In 2011, she was named "Chicagoan of the Year" in Jazz by the Chicago Tribune. David Schlesinger is a writer and editor living in California.