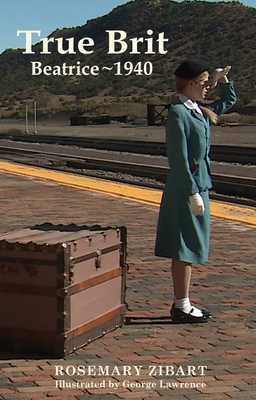 True Brit - Beatrice 1940 (Far and Away #1)
Paperback

* Individual store prices may vary.
Description
In 1940, Beatrice Sims, a spoiled English girl arrives in Santa Fe to escape the war in London. At first the twelve-year-old hates the dusty little town. But soon Beatrice makes friends with goofy Arabella, develops a crush on handsome Esteban and aids Ana, a shy Indian girl. First accused of being faceta - stuck up, Beatrice learns to change tires, ride wild ponies and helps the public health nurse, Clementine Pope, rescue a sick baby on an Indian pueblo.

TRUE BRIT - Beatrice, 1940 was inspired by accounts of children who were sent to Santa Fe and elsewhere in the United States to escape the war in Europe.
Praise For True Brit - Beatrice 1940 (Far and Away #1)…
"The story is simple but engaging, as appealing for adults as it is for children. The portrayal of Santa Fe in the 1940's is reminiscent of Richard Bradford's Red Sky at Morning, with its entrancing mix of people and cultures that existed in the city before the advent of urban sprawl." — The New Mexican
"What makes Rosemary Zibart's True Brit most engaging is the attention to detail, from descriptions of mud homes and pinon trees to "A-okay" American slang. Beatrice's journal entries add more insight into her evolution from a privileged girl to the beginnings of a modern woman. The first in a series, this fresh take on the era will continue with more stories about displaced children during World War II." — Angela Leeper, Bookpage
"True Brit - Beatrice: 1940' achieves what a historical novel should achieve. It informs and entertains and the two elements combine to make the learning lasting." — Tumbleweeds Magazine
"There is nothing more terrifying than having one's child in a warzone. True Brit: Beatrice, 1940 is a historical novel drawing from history of many British people who sent their children away to Santa Fe and other places in the United States for safety, to keep them from the vicious war that would be fought in the skies over London. Terrifying for the children and parents being faced with a whole new world and concern over the home the left behind, True Brit is a fine read for younger readers that is educational as it is entertaining." — Midwest Book Review
Kinkajou Press, 9781932926187, 214pp.
Publication Date: October 1, 2011
About the Author
Rosemary Zibart is an award-winning playwright and children's book author. Her charming picture books include "I have a Grandma who…" (for passionate boomer grandmas) and Kit Coyote: A Brave Pup (for foster children). Her first two middle grade novels, True Brit and Forced Journey, featured youths dislocated by World War 2, and both won the New Mexico Book Award for historic fiction and a Silver Nautilus Award for historical fiction. An upcoming book in this series, Beatrice, focuses on a Japanese Internment Camp built outside Santa Fe which angers locals. Ms. Zibart lives in Santa Fe with her husband and family. Learn more about her at www.rosemaryzibart.com.
George Lawrence is an illustrator living in Santa Fe, New Mexico. He received a bachelor's degree in Architecture from Auburn University and worked as a designer in New York City for twelve years. Since relocating to Santa Fe in 1991 he has specialized in architectural illustrations, as well as natural and cultural history subjects for interpretive exhibits. George has recently completed illustrations for a children's book on the scientific discoveries of Charles Darwin. He is also working on a series of illustrations of New Mexico city plazas.
or
Not Currently Available for Direct Purchase