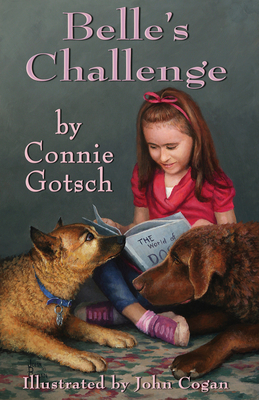 Belle's Challenge (Belle Series #3)
Paperback

* Individual store prices may vary.
Description
Moving to New Mexico is quite a shock for Belle and her owner, Darcy Simmons; so very different from their home in Illinois. But Darcy and Belle quickly make new friends in their neighbors Susan and her Airedale Terrier, Jazzy. Life would be great in their new home, if it wasn't for the dog-hating girl across the way, Emily Robinson. If that wasn't bad enough for Belle, there's no agility club in town and Darcy sstarts training her and Buster to become therapy dogs, whatever that is. 

Learning to be a therapy dog for Belle is so different than becoming a great agility dog, especially when she doesn't understand the importance. Buster seems to be a natural at it, and that irritates Belle even more. When Emily falsely accuses Belle of biting her, Belle's life takes a turn for the worse. Can Belle overcome the challenges of being a good therapy dog, while handling the meanness she and Darcy face from Emily? 
Praise For Belle's Challenge (Belle Series #3)…
"Changing paths in one's life can be quite daunting, even for a dog. 'Belle's Challenge' is a charming young adult novel of dogs and their keepers, telling Darcy Simmons and her dog Belle, and the new friends and dogs they meet in New Mexico. Learning to train in new ways, 'Belle's Challenge' is a heartwarming read of canine conflict and love, very much recommended for dog lovers of any age." — Midwest Book Review, Children's Bookwatch, Diane Donovan, Editor
"As if moving from Illinois to New Mexico wasn't challenge enough for Belle, a heeler that Darcy saved from abusive owners, she also discovers that there is no agility club in which she can compete. 

Darcy, Belle and her lab, Buster, soon meet their neighbor, Susan, and her airedale terrier, Jazzy, and they become fast friends. Unfortunately, across their backyard, the mayor lives with his dog-hating daughter, Emily, and her younger sister, Katherine. To keep Belle busy, Darcy enrolls the dogs in Canine Good Citizen classes and begins teaching them how to work as Reading Therapy Dogs at the library. 

Belle hates just lying there while kids read to her. When Katherine, Emily's sister, comes to read to the therapy dogs, Emily and her dog-fearing mother make things difficult for Darcy and her dogs. No one can deny Katherine's progress, however, and Belle learns that she can accomplish things, even if she finds them very difficult. 

This book is the third, and last, in a trilogy about Darcy and Belle. Belle starts out as an abused puppy who has to learn to find her confidence. Each book is narrated by Belle, who has come a long way in learning to trust people and other animals. This book tests that trust by introducing Emily, a competitive, arrogant girl who challenges both Darcy and Belle with her lies and mean behavior. 

While the book can be pedantic at times, it teaches the reader a powerful lesson about doing what is right, even if it might not be the most comfortable thing to do. Even though Darcy and Belle's confidence is tested, they believe in themselves and one another and are able to support a child who is less confident. The theme of bullying is addressed honestly, incorporating various methods to get Emily to stop being so cruel. Many of the methods don't work with her because she is in need of counseling, a concept that is addressed at the end. 

Characters are very well-developed. Darcy is a young lady who has grown in confidence, along with Belle. Her new friend Susan also has the opportunity to demonstrate her patience, or lack-thereof, with Emily. The plot is well-developed as well, and readers will be able to pick up the story line, even if they did not read the previous two books, Belle's Star and Belle's Trial. 

Gotsch clearly knows dogs well. Belle's on-the-go heeler personality shines through, as does Buster's lackadaisical Labrador retriever attitude. The fact that the dog, Belle, narrates the story will appeal to the target audience of ages ten to fourteen. Belle often comments on new people to the scene by describing the scent they give off to her. Each person seems to have a signature scent, which changes as their mood changes. Along with that, each chapter is headed by an illustration which gives the reader an opportunity to make inferences about what will occur next." — Foreword Reviews
Kinkajou Press, 9781932926224, 194pp.
Publication Date: March 5, 2013
About the Author
Connie Gotsch has published two award-winning adult novels, A Mouth Full of Shell and Snap Me a Future. A Mouth Full of Shell won the First Place Award for full-length fiction from the New Mexico Press Women's Communication Contest. She also wrote three short plays, A Peck of Dirt, Or Are You Cinderella--? and New Delight. In 2007 she received the New Mexico Press Women's Communicator of Achievement Award. She held an Ed.D in Leadership and Policy Studies with an emphasis on educational media from Northern Illinois University. Connie worked at KSJE, Public Radio for the Four Corners serving as Program Director, host of the award-winning morning classical music show, "Roving with the Arts", or producer of a segment for authors called "Write On Four Corners." In 2008, she received a Book in Hand Award from the New Mexico Book Association for her work in promoting New Mexico authors and publishers on the program. Connie passed away in July, 2012.
John Cogan did not became a painter by the usual approach. After earning a Ph.D. in atomic physics, John spent two years working in the field of geophysics before he made a detour and became a full-time painter. John relies on the physics of light and optics to better understand how to render the created world in pigments. His knowledge of geophysics is reflected in his love of painting the great rock formations and massive mountains of the western United States. While he occasionally uses oil paints when working "en plein air", John prefers acrylics both for his studio paintings and most of his plein air work. It also gives him the bright colors he loves to use in his landscapes. As for subject matter, the Four Corners area is perfect. He uses a combination of field sketches and photographs for his studio works, but paints many of his smaller paintings on location. Although primarily interested in landscapes, he has painted other subjects, including still lifes, wildlife, and portraits. John's work is carried by El Prado Galleries in Sedona, Arizona, Galleries West in Jackson, Wyoming, and Southwest Galleries in Dallas, Texas. He and his family make their home in New Mexico.