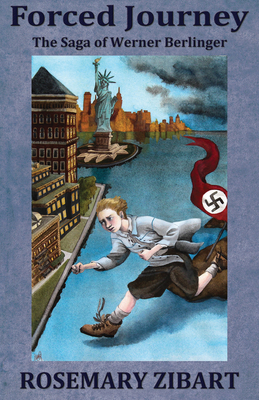 Forced Journey: The Saga of Werner Berlinger (Paperback)
The Saga of Werner Berlinger
Kinkajou Press, 9781932926323, 188pp.
Publication Date: March 5, 2013
Description
Escaping Nazi-controlled Germany, Werner struggles to create a new life in New York City. At least Werner has a goal - get a foothold in America; a place to live, a home. Then Father had promised that he and Werner's little sister would follow. This dimly burning ember of hope lit the boy's path. Along the way Werner meets a charming, mischievous fellow refugee named Anika, uses his fists with neighborhood bullies and makes a friend, Sam, while caring for his new Mutti, Esther. In Werner's struggle to find a safe home in the U.S.A., he travels across the city from Second Avenue to Central Park to Harlem and back again. Forced Journey: The Saga of Werner Berlinger was inspired by true accounts of children who fled Nazi-held Europe and came to America. The book is the second of a series titled Far and Away, which features young people displaced and relocated between 1939 – 1945.
Praise For Forced Journey: The Saga of Werner Berlinger…
2014 Silver Nautilus Book Award for Middle Grade Fiction
2015 New Mexico/Arizona Book Award Historical Fiction

"Forced Journey: The Saga of Werner Berlinger" by Rosemary Zibart is the story of a twelve-year-old Jewish boy whose family is compelled to leave Germany in 1939 because of the rise of anti-Semitism in the Nazi Germany of 1939. He and his impoverished family arrive in New York City where they must begin new lives as refuges. The second volume in Rosemary Zibart's 'Far and Away' series, "Forced Journey" will give young readers of today a kind of 'window' into what the lives and times of the dispossessed were like in their grandparent's generation. Highly recommended for both school and community library collections." —Midwest Book Review, Children's Book Watch

"Rosemary Zibart has given us a great gift in this beautifully crafted and uniquely compelling story of survival through hope, love and resourcefulness. From a German orphanage to the grimy streets of New York, young Werner embarks on his own journey of discovery... Readers can't help caring about Werner Berlinger, can't resist learning about the war years, can't ask for more from this rich, heart-quickening tale." —Lynn Stegner, author, Because a Fire was in My Head

"Forced Journey, The Saga of Werner Berlinger... is not only an interesting read but there were many times in the story when I felt that what happened to Werner was what happened to me." —Henry Frankel, President, One Thousand Children
Advertisement