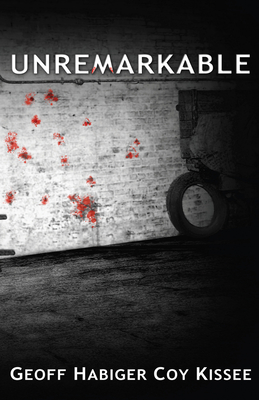 Unremarkable (Saul Imbierowicz #1)
Paperback

* Individual store prices may vary.
Description
In 1920s Chicago, postal employee Saul Imbierowicz is unwittingly swept up in a city-wide conflict between rival gangs, federal agents, and supernatural forces beyond his control.

After striking out on his own from his overbearing Jewish family, Saul quickly becomes involved with the seductive and mysterious Moira. He soon becomes mixed up in the events of the St. Valentine's Day Massacre, witnessing the shooting and fleeing from the scene after Moira takes a bullet and is presumed dead.

However, Moira is far from dead, and due to her influence Saul finds himself increasingly entangled in the rival factions seeking control over the city, coming face to face with Bugs Moran, Al Capone, and the federal agents pursuing both.

Everybody wants something from Saul, but will he be able to save himself and his family, and uncover the supernatural secrets of the city, before it's too late? 
Praise For Unremarkable (Saul Imbierowicz #1)…
"Tangent Games cofounders Habiger and Kissee kick off their supernatural noir series with this slim, atmospheric entry, which begins, "Al Capone murdered me tonight." After that deathbed declaration, Saul Imbierowicz narrates events leading up to his murder, beginning when his girlfriend Moira is killed in the crossfire of the St. Valentine's Day Massacre. Saul has no time to grieve; as a newly hired postal service worker, he has an opportunity to steal evidence from the Feds that might incriminate Capone, and if he doesn't do it, rival gangsters will execute his family. Bad turns weird when Moira rises from the dead and a "love bite" becomes something more. The premise invokes classic black-and-white noir, while lurid supernatural details add a touch of blood red. The story is grounded in Jewish culture, and readers unfamiliar with Yiddish may occasionally struggle, as it's liberally peppered throughout the narrative. The setup for a sequel is intriguing and will keep readers coming back for more of Saul's supernatural adventures." — Publishers Weekly
"Unremarkable, a thriller written by Tangent Games cofounders Geoff Habiger and Coy Kissee, blends genres to tell an enthralling story about an ordinary man who gets in over his head in an increasingly perilous underworld.

Opening with the powerful and intriguing line "Al Capone murdered me tonight," this gangland noir novel follows 1920s Chicago postal worker Saul Imbierowicz, whose mistress Moira gets seemingly randomly shot during the infamous St. Valentine's Day Massacre. Saul gets mixed up in a citywide feud between Al Capone, Bugs Moran, and the feds. Though grounded in a convincing historical accuracy, the book takes a supernatural turn, and vampires soon bare their fangs.

Compelling writing depicts action such as police raids with tension and intrigue. Gunfights are captivating, dramatized but not romanticized; they show the human toll. Unremarkable makes its threats feel real, as when Capone angrily beats up Saul, pulling no punches.

Saul gets an in-depth characterization. He's unsparingly self-deprecating when taking Moira out to a speakeasy, writing himself off as a skinny average Joe who's "not very tall." His arc is well-plotted and satisfying. Other characters do not get as much shade or nuance, in some cases serving as straightforward antagonists with little inner life of their own.

Dialogue motors the story forward and often seems realistic, though long stretches of expanded quotations come to seem like a crutch. Even so, the dialogue advances the narrative and comes across as appropriate to the historical era.

Unremarkable feels a little unsure about its Chicago backdrop, throwing out the Uptown neighborhood's Green Mill Cocktail Lounge as a setting perhaps one too many times. The ironic characterization of the Chicago River as, in quotes, "picturesque" strikes an anachronistic chord—it was not then; it is very much so now. Though generally well-crafted, settings lean on stereotypes, as when one of the ubiquitous mobsters threatens a character with becoming "just one more unremarkable victim of our city's violent culture." Such knocks on the otherwise vivid setting are common.

Native Chicagoans will find much to nitpick, though the book is obviously well researched. For other audiences, Unremarkable shines. It is an entertaining story that isn't confined by the shackles of stale genre conventions. Its interesting forays into the criminal underworld and vampiric intrigues captivate, and it takes a notably clever approach to what could easily have become a tired tale.

Unremarkable is, in fact, remarkable. It is a thrilling gangland drama that reveals unexpected supernatural depths." — Foreword Reviews
"We've often said the fun of writing a review blog is discovering new and exciting talent. Case in point this book sent to us by authors Habiger and Kissee, 'Unremarkable.' From the book design it is easy enough to infer that the story deals with death and violence and sure enough it kicks off fast in those directions. 

The year is 1929 and young Saul Imbierowicz is a postal clerk in Chicago. For an average fellow, his life has been what most people would consider dull and boring. But when he meets a vivacious redhead named Moira a few days before Valentine's Day, things seem to be changing for the better. Moira is a beauty and Saul can't believe his good luck. When she asks him to accompany her on an errand to the North Side, he willingly agrees to tag along. There isn't much he wouldn't do for the girl. 

Then they find themselves walking into one of the most celebrated gangland shootings in American history, the St. Valentine's Massacre wherein seven of Al Capone's men were gunned in a street corner garage by members of the Irish Mob under the orders of Bugs Moran. Tragically Moira and Saul arrive at the location while bullets are still flying and Moira is shot. Shocked and frightened at her body lying in a pool of blood, Saul flees in horror unable to deal with the violence suddenly foisted upon him. 

As if that wasn't enough to totally ruin his life, he is then grabbed by several of Moran's thugs and brought to a meeting with the mob boss. Moran informs him that federal agents, who maintain offices in the same building as the post office, have come into possession of Frank Capone's tax accounting records. The data in those books would be sufficient to put Al away for a very long time. Something Moran wants to assure happens. Fearing Capone might somehow steal the books from the feds, he wants Saul to do it first and then bring those books to him. If Saul doesn't do as he demands, Moran will have his parents and sister killed. 

The authors waste no time in building the suspense and the narrative moves at a very steady pace. Saul is the innocent protagonist who, for no fault of his own, finds himself in a seemingly inescapable dilemma. Can he actually do what Moran wants; break into the feds' offices and steal the Capone books? As he grapples with this question, he is suddenly set upon by the very agents who occupy those offices. They know of his presence at the street corner during the shooting and want to know what happened to Moira? If poor Saul was mixed-up before, this new wrinkle totally leaves him confused. Moira's dead, isn't she? After all, he saw her die. Or did he? And if she is somehow alive, where is she and how is she involved with the entire affair? 

'Unremarkable' is a really fun read that will keep readers guessing from chapter to chapter. The characters are one hundred percent authentic and the underlying mystery reveals itself slowly like a many layered onion. It is a thriller in the best sense of the word and one we highly applaud. Do yourselves a favor and pick up a copy." — Ron Fortier, Pulp Fiction Reviews
"'Maybe you should explain to Saul just what it is that we are dealing with here.'"

"In the 1920s, Chicago is gripped in a gangland war between Al Capone and Bugs Moran. Of lesser concern to the city's daily activity is Saul Imbierowicz, a young Jewish mail sorter who lives a modest, mundane life save for the smoking hot girlfriend he began seeing a week ago. The mysterious Moira flits in and out of Saul's life without any warning, but Saul is always happy to see her. However, being in the wrong place at the wrong time leads to Moira being gunned down in the aftermath of the Valentine's Day Massacre. Shortly afterward, Saul draws the attention of Moran, who sends goons to his apartment and forces him to steal evidence in federal agent possession in order to keep his parents and sister safe. Next, the federal agents strongarm Saul into helping them track down Moira, who miraculously and mysteriously is not dead after all, even with Saul watching her bleed out on the street. 

Tugged in several different directions, Saul is caught in the middle of a feud between Capone and Moran while also being trapped between his loyalty and love for Moira and a plan to help the agents in order to protect his family. All is not as it seems with Moira, however, and an intense, intimate encounter with her leaves Saul with a wound on his belly that won't heal and plenty of doubts and questions that seem to vanish into thin air whenever she's around. Soon Saul falls head first into a supernatural arms race between Capone and Moran, struggling to keep his head on straight, protect his family, and not lose his job. The gruff federal agents who have been demanding and uncooperative with Saul may be his only hope. Saul's decision on who to double-cross could leave the fate of the entire city of Chicago hanging in the balance. 

Readers with an interest in suspense, historical drama, or supernatural fiction are sure to discover a story here that is unlike anything they've ever read before. Saul's everyman qualities as both main character and narrator are fiercely endearing. Caught in a seemingly unwinnable scenario full of breakneck action, there is still plenty of time for him to muse on his overbearing mother or his inability to produce a decent cup of coffee in his modest apartment. Moira's relationship with Saul is forever shifting from mysterious to cute; sensual to dangerous, and his fixation and fascination with her propel the story forward whenever the tension builds to a height. These human elements go a long way toward setting this book above its peers in the various subgenres that it occupies. The nosy neighbor who seems oblivious to the danger Saul constantly flirts with and the co-worker that comes dangerously close to prying into Saul's business before being distracted by a pretty girl keep the story's tone even—balancing action with levity. 

Without getting too deep into the revelations that make the last quarter of the book a fast-paced thrill ride, the undercurrent of the paranormal in this story does as much to make it one-of-a-kind as the humanity of the cast. This book creates historical fiction with a pulse—and a crime drama that embraces the impossible—blending it all together into a truly well-balanced and entertaining read. Right away, it seems that Moira is too good to be true for Saul, but her reappearance after being gunned down in public firmly sets the reader's mind in motion to expect the unexpected. Theories and guesses will be paid off in the story's satisfying conclusion which wraps things up neatly but also lays the foundation for adventures to come in this exciting, living, fictional world. 

RECOMMENDED by the US Review" — The US Review of Books
"Saul Imbierowicz is Unremarkable. There is nothing terribly special about him. He's a young Jewish man who just moved out on his own in 1920s Chicago. He recently started working at the Postal Office sorting mail, and he has a new girlfriend named Moira. Valentine's Day comes around, and he is out on the town with Moira when they happen to walk into the famous Valentine's Day Massacre of Bugs Moran's gang by Al Capone's gang. Moira ends up shot and Saul walks away unharmed. After that night, Saul is approached by both Moran and Capone to steal some ledgers from his work, as well as by the Feds, who want to bring down Capone as well as Moira. Turns out there is a lot more to Moira than meets the eye, and she has plans for him Saul can't even comprehend. Sometimes gangsters wanting you dead is not the worst thing that can happen to you. Once Moira's done with him, if they succeed in killing Saul, he just might not stay dead. 

When you are presented with a book that is unknown and either published independently or by an also unknown publisher, there is always the possibility it's because it's not very good. I was nervous that this book would live up to its title and be unremarkable. I am not going to go so far in that it deserves an award for fantastic writing, but I was pleasantly surprised with this book. It took a supernatural turn with gangsters from the twenties and added some vampirism to the mix. I can never turn down a good vampire story. My only criticism is that I wish it was longer. I think the authors could have expounded more on certain characters or plot points, but it is the beginning of a series, so they have time to improve their craft. 

Saul was the perfect character for this story. He had just the right sense of humor and likable qualities that make a character enjoyable to read about. I loved how this book had all the classic characters from 1920s Chicago like Al Capone, Bugs Moran, and even Eliot Ness. I also love how the next book in the series will be called Untouchable. It's the perfect homage to the classic movie and story of Eliot Ness, and it also fits with what actually happens to Saul in this story. 

I would highly encourage you to read this book. It's a quick read and it's entertaining. I think you'll love it if you enjoy stories from that time period, and you'll really love it if you enjoy vampire stories." — Manhattan Book Review
"
Unremarkable
is a thrilling gangland drama that reveals unexpected supernatural depths." — Clarion Review
Shadow Dragon Press, 9781932926491, 216pp.
Publication Date: February 14, 2018
About the Author
Geoff Habiger was raised in the shadow of roaring lions and peacock calls in Manhattan...Kansas, not New York. (That's the Little Apple, not the Big Apple, for those of you playing along at home. And the wild animals came from living behind the city's zoo.) Growing up Geoff loved exploring the woods around his home, sneaking into the zoo (don't tell anybody), and playing baseball and Dungeons & Dragons. He and his best friend, Coy Kissee, would spend hours reading comics, playing all sorts of role-playing games, and talking about books and movies. Geoff stayed in Manhattan for college, getting a B.S. degree in Geology at Kansas State University (Go Cats!). He then attended gradual school in Bozeman, Montana where studied paleontology with Dr. Jack Horner, got to dig up dinosaurs in Montana, and worked to mold and cast dinosaur bones. While he didn't graduate, he had a lot of fun and did meet his future wife, so that worked out well. Geoff currently resides in the wilds of the Monzano mountains, east of Albuquerque, with his wife, son, and two cats. He is currently working on sequels to the novels already published.
Coy Kissee is an avid player of all types of card games, board games, and role-playing games. He took his love for gaming and turned it into a business and is a co-founder of Tangent Games. He is the author of several books for Dungeons & Dragons published by Tangent Games. Coy lives in Kansas with his wife. He is currectly working on several new projects for Tangent Games and is co-authoring his first novel, Unremarkable.
or
Not Currently Available for Direct Purchase