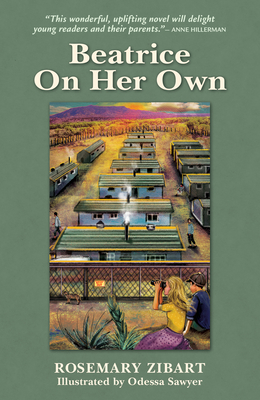 Beatrice On Her Own (Far and Away #3)
Paperback

* Individual store prices may vary.
Description
Having fled the dreadful blitz in London and landed in sunny Santa Fe, New Mexico, Beatrice Agatha Sims has learned to appreciate a radically different culture and landscape. Her world is rocked again with news of the Japanese attack on Pearl Harbor. First, she must contend with losing her American host, the sensible Clem - a public health nurse called to Washington to train other nurses. Then the 13-year-old girl must draw on her own experience of being a stranger in a strange land to battle local fears and prejudice when a Japanese Internment Camp is constructed on the edge of town. Will Beatrice have the gumption required to face the challenges the war is bringing to everyone?  A stand-alone novel and sequel to the very popular, award-winning True Brit about an English girl fleeing the Blitz and landing in America, based on true accounts.
Praise For Beatrice On Her Own (Far and Away #3)…
"This wonderful, uplifting novel will delight young readers and their parents." — Anne Hillerman, author of Joe Leaphorn, Jim Chee, Bernadette Manuelito mystery series.

"Four young teens from different backgrounds are thrown together in their small, seemingly sheltered corner of the world­—Santa Fe, New Mexico—in this fine coming of age story." — Randall Platt, author of The Likes of Me and Honor Bright

"Beatrice Sims has done her best to adjust. After shipping out from London to escape the Blitz, she finds herself in New Mexico due to a child resettlement program, slowly making friends and finding her way in the U.S. When the Japanese bomb Pearl Harbor, her guardian, Clem, is called to Washington, D.C., to help train military nurses. At just 13 years old, Beatrice must move again. Beatrice on Her Own lets this fish-out-of-water heroine adapt to constant change while keeping her wits about her. Author Rosemary Zibart's sequel to True Brit balances some heavy realities, like the internment of Japanese people (many of them American citizens), with lighter fare that is also historically accurate. A subplot about a program recruiting dogs for military service leads Beatrice to befriend a boy who is shy but talented, as she asks for his help designing a poster for the program. An afterword explains how much of the story is drawn from real history and can open a discussion with readers about current events on the U.S. southern border. The episodic, interwoven threads of Beatrice on Her Own will appeal to younger YA readers, who will find much to delight in despite the wartime theme. Young readers will cheer for this plucky main character as she struggles to do the right thing." — Heather Seggel, Bookpage
Kinkajou Press, 9781932926767, 198pp.
Publication Date: September 16, 2019
About the Author
Rosemary Zibart is an award-winning playwright and children's book author. Her charming picture books include "I have a Grandma who…" (for passionate boomer grandmas) and Kit Coyote: A Brave Pup (for foster children). Her first two middle grade novels, True Brit and Forced Journey, featured youths dislocated by World War 2, and both won the New Mexico Book Award for historic fiction and a Silver Nautilus Award for historical fiction. An upcoming book in this series, Beatrice, focuses on a Japanese Internment Camp built outside Santa Fe which angers locals. Ms. Zibart lives in Santa Fe with her husband and family. Learn more about her at www.rosemaryzibart.com.
or
Not Currently Available for Direct Purchase