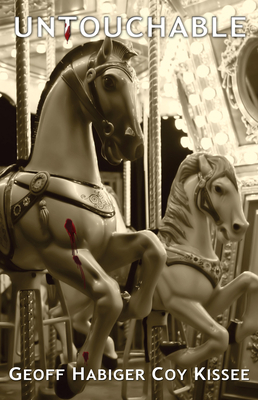 Untouchable (Saul Imbierowicz)
Paperback

* Individual store prices may vary.
Description
 Saul Imbierowicz's life literally changed when Al Capone murdered him, and he was reborn as a vampire. Now Saul is working for Eliot Ness, trying to take down the famous gangster. But Saul's new "life" isn't what he expected, and an offer from Capone to answer Saul's many questions about being one of the living dead comes at a price that Saul is unwilling to pay. Being partnered with Agent Christian Wright, who sees Saul as an abomination and an affront to God, isn't great either, but the fledgling partnership must succeed before a vampire war engulfs Chicago.
Praise For Untouchable (Saul Imbierowicz)…
"Last year we had the pleasure of reading the first book in this series called, Unremarkable. In it we met Saul Imbierowicz, a boring postal clerk in 1929 Chicago. By the book's end, poor Saul had been murdered by Mobster Al Capone who, as it turned out, was actually a vampire. Thus, to his own horror, Saul was turned and rose from the dead as a bloodsucker himself. This new book opens with Saul having been recruited by Elliot Ness to join his anti-crime task force. Ness is aware of the fact that Capone and many of his gang are supernatural monsters. The G-Man decides that having a vampire on his own team would be beneficial in future encounters. He pairs Saul with a federal agent named Christian Wright who is devoutly religious and has a deep aversion to all things unnatural, including Saul. Thus their working together is contentious from the start with Christian insulting Saul constantly while our naïve protagonist stumbles through his new existence desperately trying to understand everything that has happened to him. Like the first entry, writers Habiger and Kissee have a wonderful talent for mixing both action and humor. That Saul mentally imagines his Jewish family, mother, father and sister, chastising at the most inopportune moments is really very funny. At the same the authors do an excellent job of weaving their imaginative narrative around actual historical accounts that transpired at the time. What we've always loved about New Pulp is its ability to offer new twists to old stories. With both Unremarkable and now Untouchable, Habiger and Kissee have delivered something truly unique and thoroughly enjoyable. We have to assume there is a third volume in the works and quite frankly we hope it arrives sooner than later." —Ron Fortier, Pulp Fiction Reviews

"There isn't a lot of pizzazz in Habiger and Kissee's serviceable second Saul Imbierowicz historical urban fantasy (following Unremarkable), despite the fun premise of Saul and his boss, Eliot Ness, attempting to apprehend vampire gangster Al Capone. Saul has recently become a vampire himself, making him stronger and faster than his human partner, Agent Christian Wright, who both loathes Saul and is the only member of the team other than Ness to know of his transformation. Despite the animosity between them, Saul turns to Christian for help when he learns that a vampire war may be brewing in Chicago between Capone and a mystery vampire. Throughout this tale, Saul constantly imagines his Jewish family commenting on his actions ("If you'd rather drink this gentile's blood and disappoint your mother, then go ahead") as a way of coping with the knowledge that they believe him to be dead. This conceit is often amusing but occasionally becomes distracting, as when Saul's imagined parents and sister interrupt his fight scenes. The abrupt, cliff-hanger ending creates an unfinished feel that will frustrate new readers. Still, Saul's arresting narrative voice and the inclusion of real historical events will please series fans." —Publishers Weekly

"An inherently fascinating and impressively original fantasy novel that melds together a world of vampires and mobsters, Untouchable by the writing team Geoff Habiger and Coy Kissee is a simply compelling and exceptionally entertaining read from cover to cover." —Midwest Book Review
Artemesia Publishing, LLC, 9781932926859, 220pp.
Publication Date: March 2, 2020
About the Author
The writing duo of Geoff Habiger and Coy Kissee have been life-long friends since high school in Manhattan, Kansas. (Affectionately known as the Little Apple, which was a much better place to grow up than the Big Apple, in our humble opinion.) We love reading, baseball, cats, role-playing games, comics, and board games (not necessarily in that order and sometimes the cats can be very trying). We've spent many hours together over the years (and it's been many years) basically geeking out and talking about our favorite books, authors, and movies, often discussing what we would do differently to fix a story or make a better script. We eventually turned this passion into something more than just talk and now write the stories that we want to read. Coy lives with his wife in Lenexa, Kansas. Geoff lives with his wife and son in Tijeras, New Mexico.