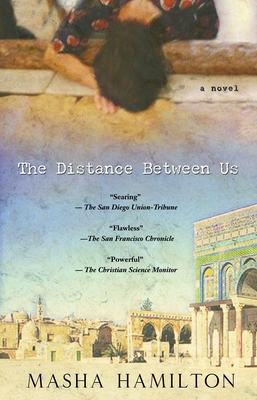 The Distance Between Us
Hardcover

* Individual store prices may vary.
Other Editions of This Title:
Paperback (10/1/2005)
Description
An authentic look at the emotional and ethical chaos within a war correspondent who becomes a bit too involved, Masha Hamilton's The Distance Between Us is a straight-ahead story of human passion--desire, conviction, and the guilt of a survivor--struggling for order within the frayed justice of the Middle East conflict. A seasoned journalist herself, Masha Hamilton brings to this revealing novel the sharp eye and deep empathy that marked her debut, Staircase of a Thousand Steps (BlueHen, 2001). Beautifully turned, and peopled with an astounding cast of characters who are as true as they are perceptive, The Distance Between Us is finally the portrait of one woman's search for the narrow pass between vengeance and emotional survival, when her only true attachment has been torn away from her. "If we knew where we were going to fall," the novel's most enigmatic character tells her, "we could spread straw."
Praise For The Distance Between Us…
A great story.Will get you thinking and break your heart."iVillage.com

Searing."The San Diego Union-Tribune

"The plotting is flawless. The pacing is just right - sometimes reflective, sometimes action-packed. Hamilton is an accomplished stylist as well... Perhaps most unusual of all, Hamilton the journalist gets the fictional journalists just right." The San Francisco Chronicle

One of the strengths of this novel is that it does not judge. Caddie is portrayed as a suffering person responding authentically to loss. Along with Caddie, the reader slips into a charged space, where the air becomes too dense to breathe, or hisses and loses pressure like a deflating balloon. The near-universal desire for revenge becomes all too convincing."The Jerusalem Post

A foreign correspondent's façade of emotional invincibility is shattered by the death of a colleague in journalist Hamilton's sharply etched, emotionally ferocious second novel (after Staircase of a Thousand Steps)....Hamilton no doubt enlists her own experience as a foreign correspondent to effectively flesh out the characters Caddie encounters an affecting, viscerally charged work that offers no easy moral answers."-- Publishers Weekly, STARRED

"A compelling tale of reprisal and endurance with a rich cast of characters. With prose both beguiling and elegant, the story will strike a chord in readers following current events in the Middle East. Recommended for all public libraries."LIBRARY JOURNAL, STARRED

A page-turner."Booklist

"[An] exciting novel....we're left thinking about the human tragedy rather than the political scorecard....[Hamilton's] determined to plumb the conflicted motives of people who rush to see danger in the world or in their newspaper. The result is a powerful portrayal of religious warfare and an unsettling challenge to anyone watching."The Christian Science Monitor

Timely, yet timeless.an eye-opening book for readers far removed from this part of the world, who only see it through news accounts or on TV."Newcenturyreading.com

Extremely well written and compelling.THE DISTANCE BETWEEN US drops us right into the battle zone and forces us to look straight at the inhumanity and simultaneously the hidden personal side"The Bloomsbury Review

Engaging from first page to last....I could endlessly quote passages of glorious prose from this book, but won't. I'll let readers discover Hamilton's gifted way with words for themselves. The author has given us the scents, sights, and sounds of Jerusalem, the sorrows shared by Israeli and Arab cousins. And she's put starkly realistic faces on human weaknesses and strengths. Unbridled Books has picked a winner here." Midwest Book Review

Hamilton, who has worked as a foreign correspondent in the Middle East, Russia and Afghanistan, writes convincingly about the emotional challenges of reporting from a place rife with violence. Her terse, no-nonsense prose propels the novel like a thriller, but the undercurrent of moral tension gives it weight."The Cleveland Plain Dealer

Thoughtfully written."Kirkus Reviews

What a powerful, intense, beautifully written story. Masha Hamilton takes us right into the brutal heart of the war zone, right into the guarded heart of journalist Caddie Blair. With spare and stunning prose, Hamilton reminds us that the distance between us often isn't as great as we may think."Gayle Brandeis, author of The Book of Dead Birds

Hamilton presents realistically and sensitively the personal conflicts and emotional exhaustion that journalists face in capturing the lives of the suffering."Magill Book Reviews
Unbridled Books, 9781932961027, 288pp.
Publication Date: November 1, 2004