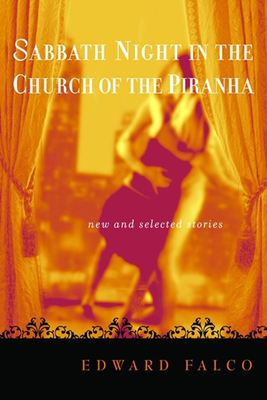 Sabbath Night in the Church of the Piranha
Paperback

* Individual store prices may vary.
Description
For a long time now, Edward Falco has quietly established his place among the absolute best American storytellers. Those who haven't yet read him don't want to miss this chance. That's why we're so excited to offer the very best of his work, gathered together for the first time, to a wider readership. Falco's stories are unforgettable, dangerous as a high-wire act without a net, filled with dramatic action, and peopled with believable characters challenged by events into making risky moral choices, so emotionally true that readers will carry them around for a long time. His prose is tense, sharp, and beautifully, wonderfully rich. In story after story, Falco's characters find the comfortable order of their lives ambushed by an upswelling of dark forces beyond their control. In order to protect the lives of family--lovers, wives, and especially children--from a catastrophe, they often must summon up the personal courage to climb back from their own monsters, to set aside old, private scars. The decisions they make reveal their bonds, the set of their hearts, and the harsh nature of the culture we all live in today. If someone out there could write the contemporary counterpart to Flannery O'Conoor's classic "A Good Man is Hard to Find," it would be Falco. His are good, old-fashioned, hard-to-find stories set way out there on the edge.
Unbridled Books, 9781932961058, 304pp.
Publication Date: May 1, 2005