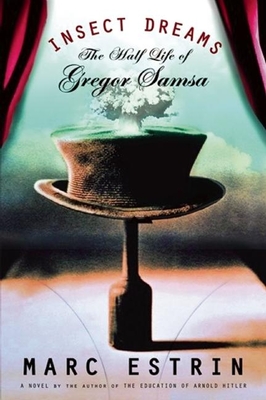 Insect Dreams (Paperback)
Unbridled Books, 9781932961096, 468pp.
Publication Date: October 1, 2005
Other Editions of This Title:
Hardcover (2/18/2002)
* Individual store prices may vary.
Description
The metamorphosis of Gregor Samsa was surely one of the momentous transformations of modern times. Kafka's burning vision of the future ended with Gregor being swept into a dustbin. But what if Gregor were to survive and live to challenge the wrongs clouding humanity's horizon? In Insect Dreams, Gregor--rescued by profiteers-- will sharpen his mind against the minds of Wittgenstein and Rilke, dance to the crazy rhythms of Prohibition, and appear as a surprise witness at the Scopes trial. Eventually, he'll meet FDR, join the brain trust, and move into the White House. But a talking cockroach with an ethical agenda can wear out his welcome, and soon Gregor is reassigned as a risk management consultant for the Manhattan Project. What follows is nothing less than the explosive birth of contemporary existence--and the culmination of a tale that is as intellectually ambitious as it is warmhearted and funny.

Praise For Insect Dreams…
Estrin communicates a sadness but also gives us a hero of such nobility that we can't help but hope that our current period of unspeakable human violence will turn out differently. Albuquerque Journal

As brilliant as Pynchon and as funny as the best of Robbins and Vonnegut, this is a generous gift to the idea-starved fiction reader. Heart, head, hilarity and history all rolled passionately into one. Don't miss this! Booksense

With wit, humour and daunting intellect, Estrin resurrects one of literature's most recognized symbols of the plight of modern man, and sends the renowned cockroach scuttling through the discoveries and disasters of the first half of the 20th century.... Estrin's evocative and allusive prose trips lightly through some dark territory, and for all the novel's hilarity it is ultimately heart-wrenching, strangely bleak and beautiful..... And given our current war context, Estrin's hysterical plotting of the life of this über-outcast -- his daunting harvest of inherited wisdom so flagrantly ignored, his implicit warnings about the often despicable drift of human progress -- could not be more relevant. Toronto Globe and Mail

Such is Estrin's genius that we're quickly caught up in the compelling quest of a human cockroach to raise mankind above its destructive instincts....Ultimately, "Insect Dreams" is a compilation of our dreams. It's the kind of book from which one wakes clutching surreal scenes, desperate to tell others, delighted and baffled and horrified. Of course, Gregor makes a particularly peculiar savior; what do we need the moral example of a frail insect for - so despised and dejected of men? But stranger things have happened. Christian Science Monitor

In a brilliant and meticulously researched - and eccentric - novel, Estrin lays out Samsa's course through the 20th century, right up to the first atomic explosion at Los Alamos, in which Samsa is, apparently, extinguished....Estrin's novel is unsparing in its conclusion that what America and its adversaries have bred is a world culture that will annihilate us unless we find a way seriously to begin to change it. Des Moines Register

Written a in a crisp, entirely absorbing style, describable only as inescapably intriguing, Insect Dreams unearths a debate, which, while possibly unconscious, nevertheless rages in all of us....Few texts of philosophy can deal with such a subject with the same honesty and clarity of this work. While the actuality of existence is, as always, an incomplete act, this work shall rank among those that serve to guide our opinions and thoughts. Ambitious and yet delivering all and more than its implied promises, Insect Dreams is beyond essential reading, it is essential thinking. Historical Novels Review

Like his version of Kafka's creation, Estrin, with his appropriated Gregor, is busy 'building history from venomous scares,' and furthering that history with a wit deepened by a vivid depiction of a pained creature suffused with generosity, curiosity and heroic persistence. New York Times Book Review

In this remarkably assured debut, Estrin engrafts fantasy and morality on historical actuality to arrive at a form known as anatomy - a discourse on an encyclopedic variety of subjects focusing less on people than ideas or attitudes. "Moby Dick" is a literary example, "My Dinner with Andre" a movie version. Estrin's achievement is to make Gregor not merely a mouthpiece or even a symbol but an expression of humanity testing itself against the darker forces of science and technology over which it appears to have lost control. "Insect Dreams" meets that test in the mordant tradition Kafka himself might have applauded. Raleigh News and Observer

Estrin's understanding of 20th-Century Western culture is as disturbing as Kafka's - in fact it is Kafka's, tempered with hindsight and a few laughs. The author moves at such a rapid pace it is tempting to think of him as Umberto Eco on speed. But his view of modern culture is not purely intellectual...[His] mind games conceal a profound caring for people, their extraordinary creativity matched only by their ability to destroy. Those tireless readers who make it through the roller-coaster ride of Estrin's encyclopedic imagination will doubtless still be analyzing his complex challenging first novel as they wait in great anticipation for the next. Richmond Times-Dispatch

Fast-paced, clever, witty, this is literary entertainment of a high order. With its many layers of philosophical possibilities, and its serious ethical questions, this is a novel that promises to be around for a long time. Rutland Herald Sunday Magazine

A thoroughly engaging and thought-provoking tragicomic romp across defining cultural milestones of the 20th century West. This is because the author supplies the convincing details that make for portraits, not caricatures; because he is so know....Weighty with ideas, this strikingly original debut never feels heavy. Instead, it moves swiftly and relentlessly toward its grim conclusion. San Francisco Chronicle

Readers will devour this book, just to see what happens next, what famous figure of the 20th century will be drawn to make the acquaintance of or test wits with a five foot-six inch talking cockroach...Estrin has the wit and brains to pull this off with comic brilliance...,but more importantly he has the heart. New Orleans Times-Picayune

Estrin's amusing and deeply sympathetic narrative weaves between the privileges of being an insect and the genius of being human. Through his encounters with a stream of historical figures burdened with crucial decisions, Gregor defines his transcendent mission: to save the world from itself. Times Literary Supplement (London)

Get ready for a highly imaginative ride through the cultural frontier of the early 20th century....In a fantastic mixture of fact and fiction, this witty debut novel follows the adventures of Gregor from post-World War 1 Vienna through the Manhattan Project....A colossal book of characters and events that inspires tears of laughter and sadness in its rich blend of clever metaphor and unsettling facts, this promises to become a pivotal literary landmark. Highly recommended Library Journal, starred
or
Not Currently Available for Direct Purchase