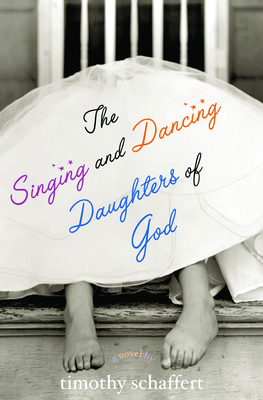 The Singing and Dancing Daughters of God
Paperback

* Individual store prices may vary.
Other Editions of This Title:
MP3 CD (6/21/2016)
Description
A blithe and redemptive seriocomic love story filled with country music, the ghosts of Halloween, and an ironic brand of down-home religion. Newly divorced and feeling the pain of separation from his family, Hud Smith channels his regret into writing country-western songs, contemplating life on the lam with his 8-year-old daughter, and searching cryptic postcards for news of his teenage son who has run off with The Daughters of God, an alternative Gospel-punk band of growing fame. Then he finds himself inching toward reconciliation with his ex, tossing his whole talent for misery into question as they head off in a borrowed school bus, hoping so very tentatively to bring the entire family together again. In this endearing misadventure that threatens to turn out right in spite of it all, Schaffert writes a thin line between tragedy and hilarity, turning wry humor and a keen sense of the paradoxical onto characters who deserve all the tender care he gives them.
Unbridled Books, 9781932961126, 229pp.
Publication Date: November 1, 2005
What will become of Hud and Tuesday's relationship, following their adventure to South Dakota?
Discuss the theme of fight/flight throughout Hud and Tuesday's rela­tionship, both in their direct interactions with each other, and their interactions through their children.
How is Hud's relationship to music, and the writing of songs, differ­ent from that of Gatling's?
How does church and religion inform the characters' lives? In what do the characters have the greatest faith?
What affect do the movies have on the characters' sense of romance? How do movies affect their senses of themselves?
What role does Halloween play in this novel, and why do you think the author featured this holiday rather than another?
How are children both treasured and protected, or not, in this novel?
The book begins with Hud's ruminations about how society comes together over tragedy, grief, and loss. Is this book a tragedy, a com­edy, or both?
How did Hud's and Tuesday's marrying young affect their lives and inform their regrets? What is their sense of family and sense of com­munity, and how does this play out both in the family break up and in their hopes for reuniting?
Why do you think the author chose such distinctive names for his characters? How do the names develop the characters for readers?
How do Hud's and Tuesday's youthful expectations for moving beyond the limitations of their town color their sense of the future, their attitudes about their marriage, and their relationships with their children?
How much of their nostalgia for a better time is genuine and how does it affect their dreams for a future?
What role does music play in this novel?
Is this a love story? If so, whose?