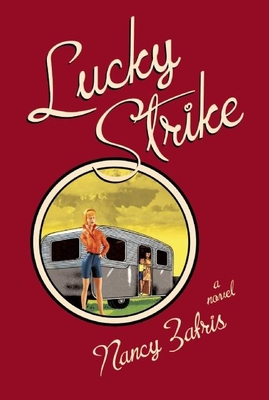 Lucky Strike
Paperback

* Individual store prices may vary.
Description
ust as she did in her New York Times Notable debut novel, The Metal Shredders, Nancy Zafris follows a colorful cast of characters into uncharted fictional territory, this time landing in the canyon country of the desert Southwest in 1954. For motivations as straightforward as striking it rich to reasons far more complex and counfounding, they each embark on very personal divergent journeys across an unforgiving countryside, even while their quest to find uranium unites them. By turns meditative and funny, frightening, witty and refreshingly wise, Lucky Strike explores the ways that language simply put can mine the inexpressable. In the process, a young widow and her two children learn much about uranium but even more about the nature of the love that binds them. This is a story to touch your heart.
Unbridled Books, 9781932961164, 336pp.
Publication Date: April 3, 2006
The title of this novel, Lucky Strike, is also the name brand of one of several Geiger counters that the characters use to search for uranium. What significance does this title have to the story? Do the characters experience any lucky strikes?
What significance does the landscape play in the novel? Is there irony in the fact that this barren Utah desert, where the story takes place, holds the promise of great wealth from its uranium deposits? In the richness of these deposits and the effects of uranium poisoning?
Even though she doesn't believe the get-rich-quick claims in the government pamphlets, Jean Waterman still takes her children, leaves her Midwestern home and joins the ranks of uranium prospectors. How does her relationship with her mother influence her decision to set out on this adventure? The death of her husband? Charlie's teacher Charlie's illness?
How is Charlie's illness central to the story? How does it influence the interactions among the other characters? Why does Jean try to keep the nature of Charlie's illness secret from the others? Why does she refer to it as "the visitor"?
Jean claims her family makes this trip to satisfy Charlie's scientific nature. Yet in many ways, Beth figures more prominently in the story as she records the group's misadventures in her book Beth Waterman, Uranium Girl. What role does Beth play in the story? What does her perspective of the events lend to the story?
When Jean and her children first meet Harry Lindstrom, he is training himself not to drink water because he believes that "then nothing bad will happen." Later, Harry struggles with his polygamist background and his embarrassing experience in the Airstream. How do his relationships with Jean, the children, Jo, and others impact him?
Many of the characters' names are as eccentric as the characters themselves. Miss Dazzle, Jimmy Splendid, Vincent Flaherty, Leonard Dawson, Timothy Carle – what do these names reveal about their characters?
When Jean leaves Ohio, she does so against her mother's wishes. Jean says that her life will be normal as long as she can keep from reaching a truce with her mother. How does Jean's relationship with Jo Dawson and Miss Dazzle compare to her relationship with her mother? Does it change after she is shot?
According to Beth, adults are mysterious – sometimes their mysteries are interesting; sometimes they aren't. About teachers, she says, "Now and then duty called upon them to impersonate people of wisdom." What does she mean by these comments?
Despite this story's serious overtones – illness, slippery characters, underhanded actions, uranium poisoning and nuclear testing, unrequited love – the story is filled with humor and irony. What effect do these techniques have on the story?
Beth describes herself as resilient, exploratory, loyal, and radioactive. Do these words accurately describe her true nature?
At the end of the story, Beth gets several warning messages: Leave. You shouldn't be here. You see what I'm trying to tell you? What does she make of these messages? Why do Beth and Charlie run toward the bomb at the end of the novel?
How are the issues of love and loyalty addressed in the novel? Violence? Polygamy? Disillusionment? Ethics? Hope?