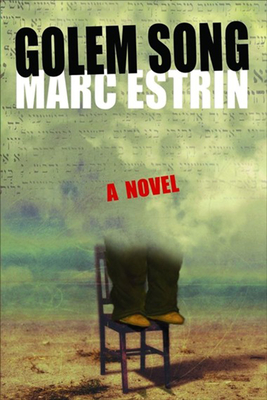 Golem Song (Paperback)
Unbridled Books, 9781932961232, 353pp.
Publication Date: November 1, 2006
* Individual store prices may vary.
Description
By some incalculable force of human attraction, Alan Krieger has two lovers. A man of his girth and compulsion, a man who cannot stop talking and who believes the world to be completely irrational, should not take one companion for granted, much less two. Women who can tolerate his anger, his obsessions, and his antic clowning all at the same time are not easy to come by. But when the thought arises in Alan that he's been "chosen" to deliver Jewish America from the threat of Anti-Semitism, then all his connections to reality fall away, including those to his lovers and his family. Recalling the folktale of the Golem--the Frankensteinian giant of clay that saved the Jews in 16th Century Prague--Alan lays out a plan of attack and then sets to making the most outrageous of preparations in the culture wars, in New York City at the turn of the millennium. Like each of the acclaimed Estrin novels that have preceded it, Golem Song is an allusive, manic, and wildly comic approach to some of the most serious and difficult cultural questions of our time.
Praise For Golem Song…
"The resolution of the story and this tragic golem figure will stay with the reader long after the final page is turned."--Jewish Book World

Estrin is fascinated by a[n] urgent problem: how easily ethnicity, and even the identification with an ethnic history, can tip into intolerance and violenceIts dramatization of just how easily confidence that one has been chosen by God can drive one into ethically dubious aggression should be familiar to anyone paying attention to American proponents of the Iraq War. The problem of false messiahs is, in a post-9/11 world, not especially a Jewish problem; rather, the temptation to messianism has become a difficult geopolitical question."PopMatters.com

[T]his book has the potential to hit almost anyone concerned about the modern world with almost equal forceEstrin's third is an extremely learned novel covering a host of important topicsOn seemingly every page, the author makes free use of folklore, religion, myth, literature, songs, poems, puns, allusions, and pop culture. He's also hilarious, often wickedly irreverent[Golem Song is] fascinating and disturbing, and it may be the only hysterically funny novel about the possibility of a race war that you'll ever read."Peter Quinones, The Bohemian Aesthetic

Krieger is perhaps the most erudite, witty and well-read nudnik in contemporary American literature. The book is over the top and thats what makes it so compelling.
But Golem Song is such a wonderful book because it challenges the reader's assumptions and way of thinking about people and their minds. One can't help but develop a love/hate relationship with Alan Krieger. Love him because of his wit; hate him for who he is.All of these passages are brilliantly humorous and deadly serious."Vermont Today

Alan Krieger is not your standard-issue 35-year old emergency-room nurse with a brilliant, non-stop mind and mighty mouth. With Estrin's character-driven comic touch, you will come for the foibles but stay for the foils in this 1999-set novel as Alan deludes himself into believing he's been chosen" to deliver America from Anti-Semitism. If Alan has become a Frankenstein of sorts, it's all the more a Faustian connection rooted in the folktale of the Golem, the animated being of clay that defended the Jews in 16th Century Prague."San Diego Union Tribune

With his third novel, [Estrin] has found the perfect vessel for his gifts a relentlessly punning, quoting autodidact, content with no one else gleaning his references to obscure 19th-century operas and Russian literature. Estrin's gift for bending language finds its ideal agent in Alan the subway kabbalist, lover of learning and amateur vigilanteEstrin's protagonist is a troubling character, delusional but entirely coherent within his own tightly enclosed worldview. Golem Song" does a fine job of capturing the loping rhythms of Alan's mindsetIt is only once the Joycean wordplay and the buoyant good cheer have lured us inside that we realize we are trapped with a delusional maniac. For this golem, who seeks to defend the promised land of the Grand Concourse, now laid waste by marauders, the demons and devils live only inside the confines of his own brain."The Forward