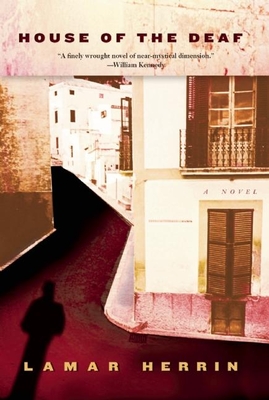 House of the Deaf
Paperback

* Individual store prices may vary.
Other Editions of This Title:
Hardcover (11/1/2005)
Description
Ben Williamson has lost a daughter. While studying abroad in Madrid, Michelle Williamson was caught in a bombing by Basque separatists, a bombing that killed her and several members of the Guardia Civil at a post in a park. For Ben, this act of violence has left only questions, and at a moment of despair he decides to seek out the reasons for Michelle's death. As Ben begins to learn about the endless tensions beneath the surface of Spanish culture, he finds that he wants someone to answer for his loss. Ben's other daughter, Annie, is also wrestling with the loss of her sister. When she follows her father to Spain, she finds a changed man. Haunting and beautiful, House of the Deaf is the story of one man's brush with terrorism and his quest to find answers.

Praise For House of the Deaf…
"Lamar Herrin redefines vengeance and innocence in House of the Deaf, a tale of political violence in which the life-blood of the spirit confronts the cold blood of the terrorist a finely wrought novel of near-mystical dimension."William Kennedy

[A] lovely, wrenching novel that will move even the most unemotional of readers."Booklist

Lamar Herrin has always written beautifully. Now, in a manner reminiscent of J. M. Coetzee, he looks at the effect of contemporary political violence on one particular family. House of the Deaf is a powerful, poetic, and suspenseful book." Lorrie Moore

Few novels handle the death of a child well; most go for sensationalism or bathos. This quiet novel powerfully renders one father's search for understanding when his oldest daughter is blown apart by Basque bombs in Spain. After profound tension, the ending leaves one spent but satisfied." Library Journal

The engrossing story, with its clipped, articulate style, lets us into the souls of a tormented family facing the loss of a child to violence, and it is done without sentimentality or mawkishness, building to a finale with grace and finely controlled tension."St. Louis Post-Dispatch

"Herrin explores an everyman's quest for retribution for overwhelming political violence in his latest novel (after The Lies Boys Tell; The Unwritten Chronicles of Robert E. Lee). Long considered a man of dreamy inaction by his ex-wife, 48-year-old Kentuckian Ben Williamson undergoes a sea change when he travels to Madrid to understand the death of his daughter Michelle, killed three years earlier in a Basque separatist terrorist act while she was studying abroad. . . . culminates in a confrontation with an unexpected and emotionally satisfying outcome that stays true to the scar of terrorism. . . a subtle, suspenseful treatment of a personal response to terrorism."Publishers Weekly

"Compelling, rich, and profound."Bobbie Ann Mason

"With a depth of characterization and a delicacy of observation recalling James Salter, Lamar Herrin takes the reader along on history-haunted Ben Williamson's pilgrimage to Spain. House of the Deaf locates the often painful place where, against our will, the personal becomes political."
Stewart O'Nan, author of The Good Wife

[A]n extraordinary novel. Lamar Herrin has crafted a quietly harrowing, memorable story.The storyline is exciting and all characters believably human. The sights, scents, and essence of Spain become living entities throughout the book. But it's Herrin's gift of skillfully revealing each person's inner life and thoughts that makes House of the Deaf a standout. Highly recommended adult reading."Midwest Book Review

[A] powerful look at the real impacts of terrorism on the innocent."Harriet Klausner

A painful story of loss and mourning, exploring how those left behind in the wake of violent death come to define their own place in it. a brave, ambitious book."Ithaca Times

A lovely, poignant story of coming to terms with horrific loss and learning how to cope in the world that follows."NewCenturyReading.com

Studded withsubtle, psychological moments. Herrin, in his fifth novel, shares some of James Salter's gift for observationally acute understatement.[he] nails in a few sentences the complex chemistry between mothers and daughters, how a daughter is built to detect and destroy the hype in her mother's stories, even as the girl privately cheers the brio. And Herrin has a bit of J.M. Coetzee about him in his aptitude for the charged and acrid exchanges between women and men.[the story becomes] hypnotic, stripped-down like a fairy tale."The Cleveland Plain Dealer
Unbridled Books, 9781932961287, 240pp.
Publication Date: September 1, 2006