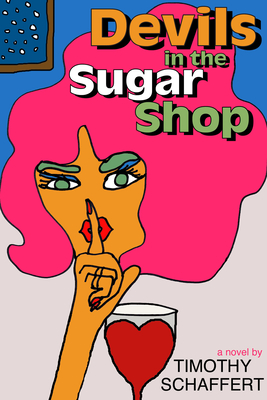 Devils in the Sugar Shop
Paperback

* Individual store prices may vary.
Description
A failed erotic novelist; a hostess of prim sex-toy parties; an artist and a bookshop owner pursued by a demented if harmless stalker; wives, lovers, twin sisters, daughters--all members of the artsy crowd in Omaha, try to hold their families, friendships and personal lives together as they face damaged and broken marriages, and mid-life crises during one whirlwind day that may only be saved by their own children, a timely fire, and a return to their senses. Ashley, a frustrated novelist, teaches a community college class in the writing of erotica, which only seems to turn a magnifying glass on her own marriage woes. June has become filthy rich by selling marital aides at Tupperware-like home parties for a company called Sugar Shop Inc., but despite her wealth, she still longs to reunite with her impoverished ex-husband. Viv, an artist, learns to find creative inspiration, and maybe even a better understanding of herself, from a dirty-minded stalker who reliably sends her startling pictures in the mail every day. Peach and Plum, twin sisters, own a bookstore called Mermaids Singing, where together they attempt to unravel the knots of their own neuroses. All the while, the words and questionable wisdom of a tough-love motivational speaker, known only as Sybil the Guru, echoes throughout all their lives. The day ends with a few raucous parties that threaten, or promise, to challenge the ways these various women continue to live. As the women struggle for guidance in the face of sheer lunacy, they come to realize that the most useful answers are likely the ones they come up with all on their own.

Unbridled Books, 9781932961331, 256pp.
Publication Date: May 1, 2007
Is there an overall message in Devils in the Sugar Shop? If so, what is it?
Are some parts of the book funny and zany? Which passages are amusing?
Which parts are both humorous and sad? Why?
What needs are driving the affair between Peach and Troy?
Who bears the primary fault for the adulterous relationship? Is it Zeke's responsibility because he has broken his marital vows to Ashley and thus only he is accountable to her? Or is Peach a "home wrecker"?
What is going on emotionally between Viv and Zeke? What is motivating their kissing sessions?
What could be some of the possible causes for Mrs. Bloom's mental breakdown? In a way, does Viv save Mrs. Bloom's life? What would have happened had Viv not intervened?
Why is there a rivalry between Peach and Plum? Do they seem closer by the end of the novel? Why or why not?
Is Ashley homophobic? What evidence is there for or against that possibility?
What sentiments feed the relationship between Viv, Ashley, and Deedee?
Do you agree or disagree with Deedee's idea that ". . . it was impossible to be hip in a youth culture so booby trapped."
What do the drag queens symbolize? What is their role in the story?
How would you characterize or define Schaffert's overall style of writing?
In which passages does he use clever titles or names, real and invented, that seem add to the book's wittiness?
What is resolved in the end? What isn't?