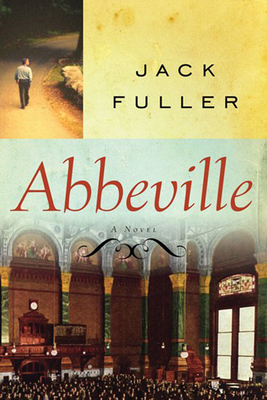 Abbeville
Hardcover

* Individual store prices may vary.
Other Editions of This Title:
Paperback (6/3/2009)
Description
Abbeville sweeps through the history of late-19th through early-21st century America--among loggers stripping the North Woods bare, at the World's Columbian Exposition of 1893, with French soldiers at the Battle of Verdun, into the abyss of the Depression, and finally toward the new millennium's own nightmares. At the same time it examines life at its most intimate. How can one hold onto meaning amidst the brutally indifferent cycles of war and peace, flood and drought, boom and bust, life and death? In clean, evocative prose that reveals the complexity of people's moral and spiritual lives, Fuller tells the simple story of a man riding the crests and chasms of the 20th century, struggling through personal grief, war, and material failure to find a place where the spirit may repose. An American story about rediscovering where we've been and how we've come to be who we are today, Abbeville tells the tale of the world in small, of one man's pilgrimage to come to terms with himself while learning to embrace the world around him.
Praise For Abbeville…
Sweeping and kind-hearted, steeped in the author's underlying respect for those who choose to rise above the battering ram of unstoppable events."The Chicago Tribune

"A wonderful novel. Abbeville put me in mind of Theodore Dreiser at his most tender, far-seeing, and astute. I hope it finds the widest possible audience."Ward Just

In this deceptively simple Midwestern-set tale, we discover the universal threads that connect us. What's important in life? How do we find it? Will we know it when we see it? Fuller's control is such that he brings us there so easily, we don't even know we've been brought. Abbeville is a gentle masterwork."January Magazine

Pulitzer Prize-winning editorial writer Fuller (Fragments) delivers a resonant, intricate saga of the multigenerational Bailey/Schumpeter family of Abbeville, a farming community in central Illinois. ..Fuller's a talented writer."Publishers Weekly

Drawing loosely on the life of his grandfather, Fullera Pulitzer Prizewinning editorial writer who has authored several novelstraces the story of Karl Schumpeter from the late 19th through the mid-20th centuryDuring the course of the novel, Karl makes and loses a fortune and discovers life's true valuethe book has some true things to say about very American ideas of manhood and success and the relationships among fathers, sons, brothers, grandfathers, and grandsons."Library Journal

"In his new novel, Abbeville, Jack Fuller once again brilliantly illuminates how it is that smart, decent, striving, flawed people wrestle with the essential issues of modern life and with the powerful forces of culture and family that have shaped their attitudes and are seeming to drive their fate. If you don't know the extraordinary creative work of Jack Fuller, this is a perfect place for you to begin. He has long been snug in the palm of the handful of America's best novelists, though too often overlooked there. By all the righteous stars of serious culture, Abbeville will bring Fuller the wide literary acclaim and audience he richly deserves." Robert Olen Butler

"Abbeville is wonderful, an evocative and involving tale about the meanings of success and failure across the generations and the values that unite a family through time. A terrific novel."Scott Turow
Unbridled Books, 9781932961478, 257pp.
Publication Date: June 1, 2008
or
Not Currently Available for Direct Purchase