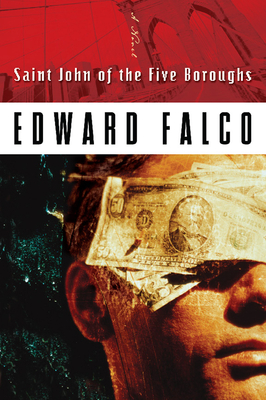 Saint John of the Five Boroughs
Paperback

* Individual store prices may vary.
Description
When 22-year-old Avery Walker, a senior at Penn State, meets Grant Danko, a 37-year-old performance artist from Brooklyn whose stage name is Saint John of the Five Boroughs, her life changes radically as she leaves college to live with Grant in Brooklyn and pursue a life as an artist. Worried about Avery, her mother, Kate, and her aunt, Lindsey, and Lindsey's husband, Hank, travel to Brooklyn, where they all face a crisis of their own and make life-altering choices. Grant is an angry guy with a curiously attractive personality and a coterie of bright, artistic friends. He's used his good looks and his accomplishments, and the accomplishments of those friends, to get by while he works hauling stolen goods for his gangster uncle. He carries dark secrets that have caused his life to go off the rails. Grant is about as lost as a man can get, adept at making wrong choices. But when he finally faces his explosive moment of truth, something extraordinary happens. Saint John of the Five Boroughs is beautifully turned--a stunning and layered novel about the effects of violence, both personal and cultural, on its characters' lives. It's about the way violence twists character, but also about the possibilities for redemption and change, for achieving a kind of personal grace. Edward Falco once again proves to be a master of urgency and suspense, of events careening out of control, as he brilliantly explores why we make the choices we make--both the ones that threaten to destroy our lives, and those choices that might save us.
Praise For Saint John of the Five Boroughs…
Highly recommended. It is one book that readers can enjoy again and again over the years."San Francisco Book Review

Falco has written a well-crafted bookThe plot flows seamlesslyan accurate and readable record of life in his timethis book makes a comfortable companion." The Roanoke Times

Falco's latest examines the underbelly of love and relationships, but he also populates the story with a cast of diverse and unusual characters. As the plot
twists and turns, readers don't know what to expect next"Booklist

Falco here goes for a heft and complexity new to him, a saga of a family ruptured and an artist discovering herself, in which far-flung elements knit together skillfully, movingly -- and not a little frighteningly. As always in Falco, the drama is dominated by its women, seen frankly yet with empathy. Early missteps all but hobble the women here, younger and older. But this winning accomplishment, a new benchmark for its author, reminds us that few things can be so beautiful as a scar."John Domini on Emerging Writers' Network
"Falco produces some excellent writing, especially when he's exploring Grant's complicated past."Publishers Weekly
c
With sensitivity and passion, Falco dissects the effects of violence, both personal and cultural, on his characters' lives and does so in a novel that transcends the suspense genre."Richmond Times Dispatch

An enjoyable read, a rich and redolent work that recaptures an evocative experience of simply settling down and getting lost in a good book."Blogcritics.org
Unbridled Books, 9781932961881, 423pp.
Publication Date: October 20, 2009