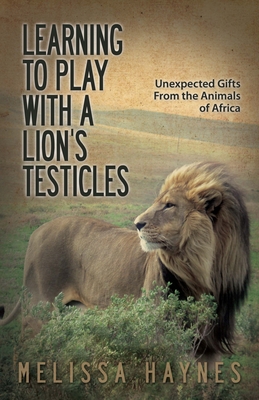 Learning to Play with a Lion?s Testicles
Unexpected Gifts from the Animals of Africa
Paperback

* Individual store prices may vary.
Description

The cheeky title of Melissa Haynes's story of adventure in Africa, Learning to Play with a Lion's Testicles, earned the book some big publicity on NBC-TV/Late Night with Jimmy Fallon on September 4,2013 where it topped the show's list of Titles Not to Read for September 2013. Melissa's book was also a big smash on the March 11, 2014 Ellen Show, where Ellen and guest Ricky Gervais highlighted the book throughout the entire hour. Playing with a lion's testicles: An African saying that means to take foolhardy chances. For the reader who has ever dreamed of going to Africa or knows the pain of loss and guilt, Learning to Play with a Lion's Testicles will fill your soul. Melissa, an exhausted executive from the city seeks meaning and purpose from her work volunteers for a Big Five conservation project in South Africa. Her boss, an over-zealous ranger, nicknamed the Drill Sergeant, has no patience for city folk, especially if they're women. He tries to send her packing on day one, but Melissa stands her ground with grit and determination, however shaky it may be. Conflict soon sets the pace with a cast filled with predatory cats and violent elephants, an on-going battle of wits with the Drill Sergeant. Even Mother Nature pounds the reserve with the worst storm in a century. But the most enduring and profound conflict is the internal battle going on within Melissa, as she tries to come to terms with the guilt surrounding her mother's death. When death grips the game reserve, it is the very animals Melissa has come to save that end up saving her.

Behler Publications, 9781933016825, 212pp.
Publication Date: April 16, 2013
About the Author
Melissa Haynes created and orchestrated successful national campaigns for major corporate players, opened and ran a prosperous business in Mexico. Her project management experience landed her a handful of lucrative Olympic contracts for the 2012 Winter Olympics. She ghostwrote a column about entertaining in the Vancouver Courier for years and a chapter in the award-winning chef's cookbook Inside the Recipe Box. She is a self-admitted chronic adventure junkie and travel addict. She is passionate about animals, adventure, conservation and scribbling. But her greatest accomplishment and adventure to date was volunteering in Africa and living to write about it.
or
Not Currently Available for Direct Purchase