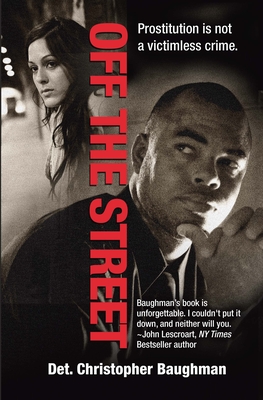 Off the Street
One Detective's Quest for Justice
Paperback

* Individual store prices may vary.
Description
I couldn't put it down, and neither will you.--John Lescoart, New York Times best-selling author of the Dismas Hardy Novels and The Hunt Club
Off the Street is detective Christopher Baughman's true life story of fighting to protect a class of women who are too easily forgotten and readily dismissed. Now co-host of the MSNBC-TV series Slave Hunter, Chris and the Las Vegas Pandering Investigation Team (PIT) wage war against the pimps who kidnap, trick, and beat women into submission and into a life of prostitution.
What begins with an attempt to apprehend, arrest, and convict a pimp responsible for beating a woman with a baseball bat over a two-day period quickly spirals into something far more sinister. Chris shares the emotions of the victims, parents, and family members who are involved in this investigation and offers parents guidance on how to protect their daughters from these predators. Chris ventures back to his own youth, to a memory that served as the momentum for his passion for saving the people and the city he has sworn to protect.
Christopher Baughman heads up the Pandering Investigation Team (PIT) and Human Trafficking Task Force in Las Vegas, where his team has arrested and convicted several of the city's wealthiest and most violent criminals. Their success caught the attention of investigative reporter Chris Hansen of NBC's Dateline Undercover: To Catch a Predator and has been the subject of several episodes, as well as a segment on NBC's American Greed. Chris teaches the anatomy of pandering investigations to other departments across the nation, including members of the FBI, IRS, and federal parole and probation agencies.
Praise For Off the Street: One Detective's Quest for Justice…
Detective Baughman does an excellent job at entertaining and informing about Human Trafficking. Shows why prostitution is not a victimless crime.
- FREE/FREE International

Baughman's commitment to being a cop renders this book unforgettable. I couldn't put it down, and neither will you.
- John Lescroart, NY Times Bestseller author

Real people, shattered dreams, stolen lives. A story of Detectives Baughman's calling to fulfill his mission from God.
- Bill Hartness, Homicide Detective

A must purchase book about Human Trafficking. It will keep you intrigued all the way to the end.
- Regina Porter - Special Victims Unit, Victim Advocate

Detective Baughman harnesses his passion to give us a gripping glimpse into his dark world of Human Trafficking. We walk away with a brighter outlook knowing there are cops like Baughman out there.
- Andy Cashman - Network Television Producer

A powerful view from the inside of Human Trafficking. Readers won't be able to set this aside or get it out of their minds.
- J. Ross Baughman, Pulitzer-Prize winning journalist and author

Detective Baughman has created a eye opening 'MUST read' about the seedy underworld of Human Trafficking.
- Lieutenant Karen D. Hughes LVMPD - Vice Section
Behler Publications, 9781933016931, 248pp.
Publication Date: August 30, 2011
About the Author
Christopher Baughman heads up the Pandering Investigation Team (P.I.T.) and Human Trafficking Task Force in Las Vegas, where his team has arrested and convicted several of the city's wealthiest and most violent criminals. Their success caught the attention of investigative reporter Chris Hansen of NBC Dateline Undercover: To Catch a Predator. Christopher has served as reference expert for the television show CSI: Las Vegas, specifically for the ground breaking crossover episode CSI: Trilogy. He teaches the anatomy of pandering investigations to other departments across the nation, including members of the FBI, IRS, Federal Parole and Probation
or
Not Currently Available for Direct Purchase