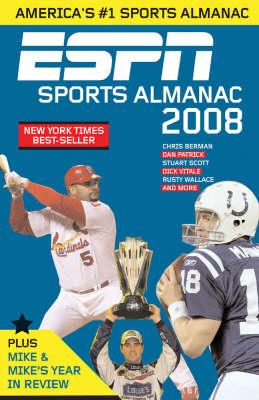 ESPN Sports Almanac 2008: Plus Mike & Mike's Year in Review (Paperback)
Plus Mike & Mike's Year in Review
ESPN Video, 9781933060385, 976pp.
Publication Date: November 1, 2007
* Individual store prices may vary.
or
Not Currently Available for Direct Purchase
Description
For over 10 years, theESPN Sports Almanachas been the definitive source for answers to most every sports question. From record-holders to champions, auto racing to the Iditarod, ballparks, business news, and Who's Who to the dearly departed athletes of the year past, theESPN Sports Almanac 2008tracks them in hundreds of photos, thousands of tables, countless facts and figures, plus expert analysis from ESPN's most popular personalities (Chris Berman, Dan Patrick, Stuart Scott, Mike Golic, Mike Greenberg, Dick Vitale, et al.). Add fan input from ESPN.com's SportsNation polls, along with ESPN's unique brand of humor, and this latest edition will keep theESPN Sports Almanacthe reigning champion and aNew York Timesbest-seller.
About the Author
Mike Morrison has been an editor of the ESPN Sports Almanac since 1996 after stints in the Northwestern State (La.) Sports Information office and Boston Bruins Media Relations. Mike has attended sporting events in 37 states and 11 countries, and is often one of the better players on his coed softball team. He is married with one child and lives in Florida. Gerry Brown has been an editor of the ESPN Sports Almanac since 1994. A lifelong Red Sox fan who went to high school in the shadow of Fenway Park, he finally achieved bliss in 2004 after many years of pain and suffering. Fortunately for his kids, the experience has not been so difficult. He spends his nights and weekends coaching youth soccer and researching facts and figures for the almanac. During the day he works as a general editor at ESPN.com.
Advertisement