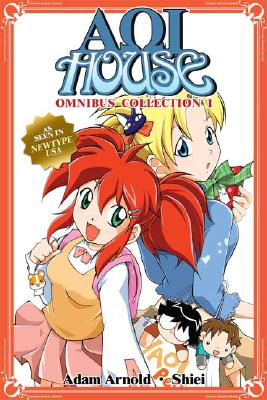 Aoi House Omnibus, Volume 1
Paperback

* Individual store prices may vary.
Description
Alex and Sandy are two normal guys just trying to get through college until their troublemaking hamster, Echiboo, gets them thrown out of their dorm. With nowhere else to turn, the boys move into an anime clubhouse where five crazed yaoi fangirls call the shots
Elle's obsessively high-strung, Nina's too laid back for her own good, Jessica's a total tease, Maria's a shy and reserved bookworm, and Morgan's just plain bonkers Toss 'em all together and you've got a harem comedy that's truly like none other
Seven Seas is pleased to present this omnibus edition which contains Volumes 1 and 2 of "Aoi House "in one affordable collection
Praise For Aoi House Omnibus, Volume 1…
"An otaku love fest!" —AnimeOnDvd.com

"One of the handful of US-original manga titles that gets it right." —Newtype USA
"Pick up this book…you're going to have a good time reading it." —IGN.com
Seven Seas Entertainment, 9781933164731, 352pp.
Publication Date: April 15, 2008
About the Author
Adam Arnold founded the fandom-related webzine Animefringe.com. He is currently Senior Editor of Seven Seas and resides in Georgia. Shiei is the artist for Amazing Agent Luna. She is the most prolific Original English Language manga artist in the US, having completed 3 volumes of Aoi House and 4 volumes of Amazing Agent Luna so far. Shiei resides in Southern California.