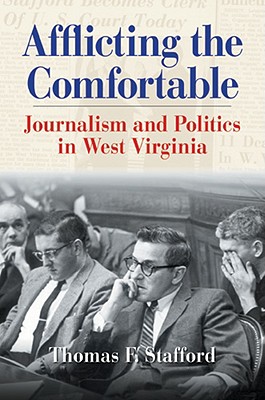 AFFLICTING THE COMFORTABLE (Hardcover)
JOURNALISM AND POLITICS IN WEST VIRGINIA (WEST VIRGINIA & APPALACHIA)
West Virginia University Press, 9781933202044, 331pp.
Publication Date: December 1, 2005
* Individual store prices may vary.
Description
In 1990, the New York Times wrote, "Government corruption was not invented in West Virginia. But there are people who contend that West Virginia officials have done more than their share over the years to develop state-of-the-art techniques in vote theft, contract kickbacks, influence peddling and good old-fashioned bribery, extortion, fraud, tax evasion and outright stealing." While investigating such events as the Invest Right scandal, Thomas Stafford, a former journalist for the Charleston Gazette, would find himself in a very precarious position. As a reporter he felt obligated to tell the whole truth, and he believed in the need to serve the public and those West Virginians who were being abused by a political machine.
In Afflicting the Comfortable, Stafford relates such tales of the responsibility of journalism and politics in coordination with scandals that have unsettled the Mountain State over the past few decades. His probing would take him from the halls of Charleston to the center of our nation's ruling elite. Guided by his senses of duty, right, and fairness, he plunged head first into the misdeeds of West Virginia's politicians. His investigations would be the preface to the downfall of a governor and an adminstration that had robbed the state and the citizens of West Virginia for years.
Praise For AFFLICTING THE COMFORTABLE: JOURNALISM AND POLITICS IN WEST VIRGINIA (WEST VIRGINIA & APPALACHIA)…
"Like a mason building a house brick by brick, Tom Stafford builds his case in great detail, showing a half-century of plundering and incompetence by others given high public trust, including at least one individual whose wrongs may yet end up costing the state as much as a billion dollars." John Olesky, journalist and editor for forty-three years
"As a member of the elite of West Virginia society, with access to the powerful, Stafford offers readers a unique insider's look into the events of his day, at times struggling with the social ostracism he and his family faced because of his reporting." Sharon Hatfield, author Never Seen the Moon: The Trials of Edith Maxwell