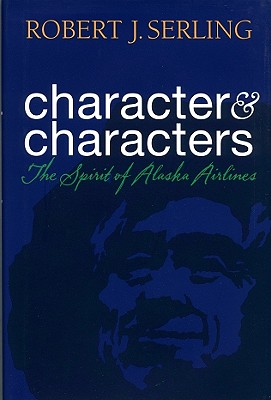 Character & Characters (Hardcover)
The Spirit of Alaska Airlines
Documentary Media LLC and University of Washi, 9781933245119, 492pp.
Publication Date: January 1, 2008
* Individual store prices may vary.
Description
This is the history of Alaska's last legacy airline, Alaska Airlines, which transformed from a single-aircraft bush operator in 1932 to a major U.S. carrier serving a presentday network stretching from Barrow to Zihuatanejo and Boston to Honolulu. Character & Characters chronicles the unusual stories and colorful people behind this uncommonly independent airline.
Praise For Character & Characters: The Spirit of Alaska Airlines…
"Character & Characters" redefines the genre of airline histories. It is quite literally the only corporate biography worthy of an entire night in front of the fireplace. You'll close the book wanting more!"
    --John J. Nance, aviation analyst, ABC World News
"Character & Characters captures aviation history in Alaska for those who love the flying machines, and, more important, it captures the spirit of Alaska Airlines for those who admire people of character."  --Dr. Bonnie Dunbar, president of The Museum of Flight
"Every day, the people of Alaska Airlines make a statement of pride, of tradition, and of relationships built over the airline's wonderful history.  To all of us at Boeing, it is with great pride that every Alaska Airlines jetliner states, 'Proudly All Boeing.'  It is an indelible stamp that signifies the enduring partnership between the airline and the plane maker that share a hometown in the Pacific Northwest.
Mr. Serling's work details the individuals and, yes, the 'characters' who have served the carrier to this day and those who will ensure its continued success in future frontiers."
--Scott Carson, President and CEO, Boeing Commercial Airplanes
"This book portrays a company with a historical and colorful past that was transformed into a major award-winning airline by two young visionaries, Ron Cosgrave and Bruce Kennedy.  The role the airline plays in the everyday lives of Alaskans, with jet service to small, remote communities, is unique to the industry.  Alaska Airlines has become the flag carrier of the great state of Alaska."
--Richard A. Wien, Former executive with Wien Airlines and Era Avaition, state of Alaska aviation expert, and Alaska Air Group director (retired)
or
Not Currently Available for Direct Purchase