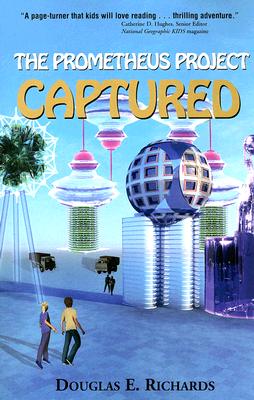 The Prometheus Project (Paperback)
Captured
Dna Press, 9781933255330, 160pp.
Publication Date: September 1, 2007
* Individual store prices may vary.
Description
Included in The California Department of Education's Recommended Literature for Science and Math and in Missouri State University's Best New Books to Engage Students in Math and Science This fast-paced, science fiction adventure is a stand-alone sequel to The Prometheus Project: Trapped. Along with their scientist parents, the brother-sister duo of Ryan and Regan continue their exploration of a fantastic alien city built deep underground. When the city is captured by a ruthless alien—with unknown capabilities and diabolical plans—and his band of mercenaries, the adult members of the team are taken hostage, and the siblings remain the team's only hope. To save the adults, Ryan and Regan must outwit the brilliant alien and his well-trained force, free the prisoners, and thwart a seemingly unstoppable invasion. Crammed with cliffhangers, nonstop action, and unexpected twists and turns, this novel introduces scientific topics—sound and hearing, ultrasonic sound, experimental methodologies, flashpowder, human memory, and superconductivity—to children while engaging their imaginations.
Praise For The Prometheus Project: Captured…
"A page turner that kids —and their parents— will love reading . . . thrilling adventure."  —Catherine Hughes, senior editor, National Geographic KIDS magazine
"Fast paced adventure, mixed with quick thinking. Ryan and Regan are great fun, and the story is just a cool idea! Very well written."  —TeensReadToo.com (5 stars)
"Adventure, suspense and science make for a potent combination. Fast paced and full of action. At a time when Americans want more students to become interested in science, the books in this series will likely encourage their interest in a non-threatening way."  —ForeWord Magazine
"This is a thrilling adventure story, guaranteed to kick-start the imaginations of young readers."  —Larry Cox, Tucson Citizen
"This is a delightful tale of kids working together, much as you would find in the Lemony Snicket books. Readers will look forward to more stories about the Prometheus Project."  —Joyce Rice, Curled Up With a Good Kids Book
"The use of ideas like the survival value of pain and the basic principles of behavioral psychology make this book all the more interesting, and when combined with fast-paced writing, the actual science behind the fiction turn a potentially ordinary alien-invasion story into a griping tale that holds even an adult readers attention to the very end. Like the late Asimov, author Douglas Richards knows that compelling, valid scientific speculation makes for equally compelling reading, and I look forward to his next offering in the series."  —American Association for the Advancement of Science, Science Books & Films
"With Captured, the author continues to tell a story that leaves the reader reaching for chapter after chapter with plenty of suspense and cliff hangers. This is a fun and adventurous story . . . Yet, again, the author has done a good job of presenting a plot that addresses many of the CA science standards."  California Science Teachers Association, California Classroom Science Journal
"One cliffhanger after another, Richards drives the suspense forward in each chapter, capturing the reader into his imaginary world.  . . . the fast paced action will have you glued to your seat.  I would highly recommend this novel to all, young and old."  —Lea Schizas, The Muse Book Review
or
Not Currently Available for Direct Purchase