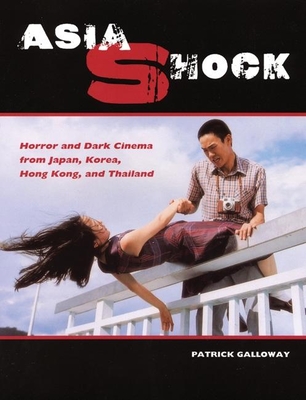 Asia Shock (Paperback)
Horror and Dark Cinema from Japan, Korea, Hong Kong, and Thailand
Stone Bridge Press, 9781933330129, 211pp.
Publication Date: November 1, 2006
* Individual store prices may vary.
Description
Asian Extreme cinema is hot, and this book lays it out in all its gory glory. Patrick Galloway, who last looked at samurai movies in his well-received Stray Dogs and Lone Wolves, now takes on Asian masters of suspense, exploitation, the supernatural, and bone-chilling, blood-curdling fear and evil. The films featured here are pan-Asian, including Korea and Thailand, and represent a mix of classics and the contemporary cutting edge. Included are viewing tips and overviews of genres and cultures.
"Galloway has all sorts of interesting insights and facts that'll make you want to rewatch your favorites, or check out some that you've never seen." -- Wired
"It has a conversational feel, as if you're sitting down with a film buddy and just discussing the film." -- Twitch
"What with brain-sauce spaghetti, switchblade cellphones, and other wonders, could horror flicks from Korea, Japan, and Hong Kong be any better? PatrickGalloway savors the genre in Asia Shock." - East Bay Express
About the Author
Film critic Patrick Galloway won over readers with film guides Stray Dogs & Lone Wolves: The Samurai Film Handbook, and Asia Shock: Horror and Dark Cinema from Japan, Korea, Hong Kong, and Thailand. A lifelong student of Asian philosophy and culture, Galloway has traveled in Japan, Hong Kong, India and Nepal. He lives in the Bay Area.
or
Not Currently Available for Direct Purchase