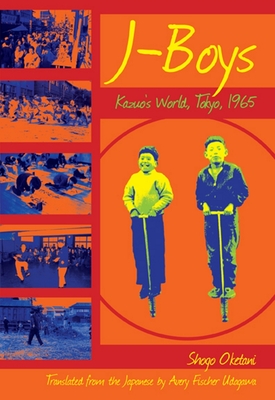 J-Boys (Paperback)
Kazuo's World, Tokyo, 1965
Stone Bridge Press, 9781933330921, 212pp.
Publication Date: July 12, 2011
* Individual store prices may vary.
Description
Kazuo Nakamoto's life in inner-city Tokyo is one of tea and tofu, of American TV and rock 'n' roll. Kazuo is nine. It is the mid-1960s, just after the Japan Olympics, and Kazuo dreams of being a track star. He hangs out with his buddies, goes to school, and helps with household chores. But Kazuo's world is changing. This bittersweet novel is a deft portrait of a year in a boy's life in a land and time far away, filled with universal concerns about fitting in, escaping the past (in this case World War II's lingering devastation), and growing up.
J-Boys author Shogo Oketani is a writer and novelist who grew up in Tokyo in the mid-1960s.
About the Author
Shogo Oketani was born in 1958 and raised in Tokyo. Following studies in the humanities at Keio University, he became an active writer and translator. He is well known for his translations of modernist poet Ayukawa Nobuo, for which he and his wife, author and translator Leza Lowitz, received the Japan-U.S. Friendship Commission Prize for the Translation of Japanese Literature from the Donald Keene Center of Japanese Culture at Columbia University, and a grant from the NEA. Avery Fischer Udagawa grew up in Kansas and studied English and Asian Studies at St. Olaf College in Minnesota. She holds an M.A. in Advanced Japanese Studies from the University of Sheffield. She has studied at Nanzan University, Nagoya, on a Fulbright Fellowship, and at the Inter-University Center for Japanese Language Studies, Yokohama. She currently parents, writes, and translates in a bicultural (Japanese/American) family living north of Bangkok.
Praise For J-Boys: Kazuo's World, Tokyo, 1965…
J-Boys gives readers a chance to time travel . . . Rich with details of day-to-day life in 1960s Japan, and enhanced with photographs and notes, J-Boys offers deep and lasting insights into family and school life, foods, seasonal rituals, and the all-important sense of community."
Holly Thompson, author of Orchards, The Wakame Gatherers, and Ash

Boys, boyhood, innocence, and friendship in the rich landscape of Tokyo, 1965 . . . a fascinating and endearing work."
Graham Salisbury, author of Under the Blood-Red Sun, winner of the Scott O'Dell Award for Historical Fiction

These stories are a sushi plate of delicious morsels, consisting of all flavors: sweet, salty, bitter, sour, umami, and hanbaagaa. Deftly told and delicately translated, these stories capture the crazy aspirations, the naughtiness, the tenderheartedness, and the irrepressible spirit of the J-boys."
Margi Preus, author of Heart of a Samurai, a 2011 Newbery Honor Book

Shogo Oketani's intimately detailed view of life through the eyes of young Kazuo captures the excitement of the 1960s Westernization of Japan in the 1960s, while at the same time delivering the penetrating sorrow of an ancient culture slowly slipping away. Lyrics by the Beatles in a communal bath house, longing for Wimpy burgers while carrying ice-cold tofu home in a bowlthe paradox is amusing, astringent . . . yet loving. Oketani's gift of writing is deeply appreciated."
—Satsuki Ina, PhD, award-winning documentary filmmaker, Children of the Camps and From a Silk Cocoon

We all have an attachment to our childhood, particularly to the narrow passage of adolescence that renders the malleable child into the semblance of an adult. The nostalgia for this lost state is particularly strong in Japan and has resulted in an entire literary genre, which has given us such classics as Kenji Miyazawa's Matasaburo, The Wind God, Kojin Shimamura's The Story of Jiro, and Joji Tsubota's The Four Seasons of Children. To this select and beloved group we now welcome Shogo Oketani's J-Boys, an episodic novel in interlocking stories about two brothers, Kazuo and Yasuo, their impending adolescence and their loss of the past as they enter the brave new world of post-Olympics Tokyo, 1965. Here, created with affection and skill, is the whole lost world of the present generation, that childhood the memory of which still lives within us."
—Donald Richie, culture critic and author, The Inland Sea and many other works about Japan
or
Not Currently Available for Direct Purchase