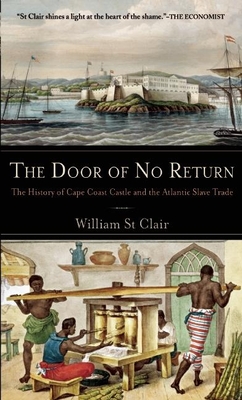 The Door of No Return (Hardcover)
The History of Cape Coast Castle and the Atlantic Slave Trade
BlueBridge, 9781933346052, 281pp.
Publication Date: April 1, 2007
Other Editions of This Title:
Paperback (2/1/2009)
* Individual store prices may vary.
Description
The grim history of the slave trade from Africa is one that has had an impact on generations of people all over the world. While much of the initial voyage and inhumane treatment of slavery has been historically analyzed, there has been little written on the several forts and castles along the coast of Ghana that were used as slave holding facilities. This book focuses primarily on Cape Coast Castle, the African headquarters of the British slave trade from 1664 to 1807, through which countless men, women, and children were sold as slaves and carried away on slave ships, often to North America. It tells the story of the people who lived, worked, or were imprisoned within its walls, as well as the construction and upkeep of the building, the arrivals and departures of ships, the negotiations with local African leaders, and the deadly diseases inside.
About the Author
William St Clair is a former senior research fellow of Trinity College, Cambridge University. He has also held senior positions in the British Ministry of Defence, the Foreign Office, and the Treasury, and is the author of "The Godwins and the Shelleys, "Lord Elgin and the Marbles, " "and" The Reading Nation in the Romantic Period."
Praise For The Door of No Return: The History of Cape Coast Castle and the Atlantic Slave Trade…
"The Door of No Return dwells on the details that provide the Castle's bizarre and haunting resonance. It was the site of insane brutality and of foul diseases, yet it was also a place of elegance and refinementand the source of many ignoble fortunes. It attracted the licentious, the cruel, the greedy and the luckless, and installed them in a fortress above the ocean. Two centuries later, slavery remains an episode hard to look at with level head, but William St Clair shines a light at the heart of the shame."  The Economist

"William St Clair illuminates the African side of the slave trade in his dignified analysis. The Door of No Return is a work of superb scholarly detection."  The Guardian

"William St Clair comes at the vast and grim subject of slavery from a new angle, through the history of a single building. The Door of No Return is a powerful, poignant, often startling story."  The Independent

"The great strength of St Clair's narrative is to make the ancient walls of Cape Coast Castle speak for the armies of the dead, black and white, whose precarious lives were bounded and imprisoned by the castle's culture. Cape Coast Castle survives as a reminder of the grim story of Atlantic slavery, brilliantly reconstructed here in an utterly novel and affecting way."  James Walvin, author, Black Ivory: Slavery in the British Empire

"A readable and detailed account of Britain's role in the slave trade. . . . St Clair has a new angle . . . the history of a single building."  The New York Times Book  Review
or
Not Currently Available for Direct Purchase