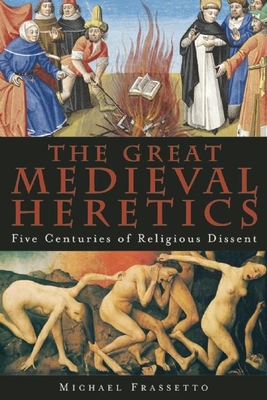 The Great Medieval Heretics (Paperback)
Five Centuries of Religious Dissent
BlueBridge, 9781933346236, 241pp.
Publication Date: February 1, 2010
Other Editions of This Title:
Hardcover (6/1/2008)
* Individual store prices may vary.
Description
Replete with terror, passion, and hope, this gripping narrative history explores the intricate mysteries of medieval Europe through the lives of the great heretics whose beliefs and practices challenged the teachings of an all-powerful church. Five centuries of social and spiritual turmoil are covered through a vivid and telling mix of events, personalities, and ideas.
About the Author
Michael Frassetto teaches history at the University of Delaware and has written extensively on the history of medieval heresy, religion, and society. He was the religion editor for "Encyclopaedia Britannica" for a number of years. He lives in Medford, New Jersey.
Praise For The Great Medieval Heretics: Five Centuries of Religious Dissent…
"'The Great Medieval Heretics is a refreshing new view of medieval religious dissenters and their effect on Christianity as a whole. Michael Frassetto presents a human and very readable account."  Jeffrey Burton Russell, author, A History of Heaven
"Michael Frassetto clears a path through the thicket of religious dissent to deliver clear-eyed biographical sketches of the holy heresiarchs who gave so much grief to the medieval Church. A non-polemical introduction to a thorny subject."  Stephen O'Shea, author,
The Perfect Heresy
"Frassetto offers a detailed examination of the lives and teachings of learned heresiarchs, pesky troublemakers, and power-filled women mystics. Intellectual, social, and Church historians will all profit from this well-indexed work."  John R. Sommerfeldt, author,
Bernard of Clairvaux: On the Life of the Mind
"'The Great Medieval Heretics is a refreshing new view of medieval religious dissenters and their effect on Christianity as a whole. Michael Frassetto presents a human and very readable account."  Jeffrey Burton Russell, author, A History of Heaven