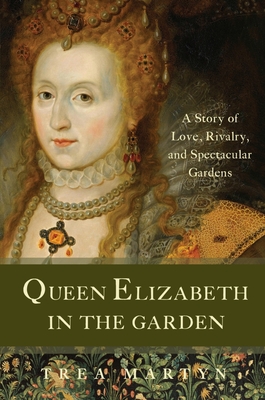 Queen Elizabeth in the Garden
A Story of Love, Rivalry, and Spectacular Gardens
Hardcover

* Individual store prices may vary.
Other Editions of This Title:
Paperback (4/1/2013)
Description
Queen Elizabeth I's great love for gardens transformed her country and made gardeners of statesmen, courtiers, and soldiers. The two most powerful men in England during Elizabeth's reign, Dudley and Cecil, led the way. Driven by their rivalry and devotion to their queen, they created ever more gorgeous gardens that amazed the world.
Praise For Queen Elizabeth in the Garden: A Story of Love, Rivalry, and Spectacular Gardens…
"The heart of the book contains strong, precise description and thoughtful analysis. Martyn guides us with ease around the great gardens, explaining the ideas behind them, their planning and geometry, hydraulics and planting, alluding in passing to the works of Spenser and Sidney as well as Hill's 'Gardener's Labyrinth' and Gerard's 'Herbal.' She has also done some illuminating archival research, unearthing Cecil's planting lists from the manuscripts at Hatfield and finding previously unknown features of Theobalds . . . this spadework, and the author's visits to many Elizabethan houses and to the Renaissance gardens of Italy, enriches her elegantly produced book."  —Sunday Telegraph

"The story of how Elizabeth I's two courtiers Lord Robert Dudley, Earl of Leicester, and Sir William Cecil (later, Lord Burghley) ruthlessly and grandly competed for her affections with their gardens . . . is thrillingly told . . . a fascinating account of the rivalry between these two ambitious men."  Lady

"Martyn's book is useful in highlighting the importance of the garden in the Elizabethan imagination. It's also timely, with plans afoot to trace the remains of the long-destroyed Theobalds, and a project to recreate Leicester's garden at Kenilworth now well under way. . . . Fantastical details of the gardens themselvesrosemary leaves covered in gold leaf catch the light, visitors rowed through a shady labyrinth of canalsintrigue every inch of the way."  BBC History Magazine


"A delightful, absorbing read, a cornucopia of amazing new facts about the Virgin Queen."  Sunday Times
"Gardening-as-politicking is a seductive and original idea. . . . Trea Martyn's descriptions of gardens . . . are excellent . . . . In evocative and lively prose she leads the reader along." 
Guardian
"Bewitching and original. . . . Today. . . not a single authentic Elizabethan garden survives—all the more reason to welcome a book that uses a wealth of evocative detail to recreate this lost world of bright bowers and labyrinths. . . . Martyn's scrupulous research restores life to . . . a landscape so enchanting. . . . [An] exquisite book." —
New York Times Book Review
(February 12, 2012)
BlueBridge, 9781933346366, 336pp.
Publication Date: January 1, 2012
About the Author
Trea Martyn completed a PhD in 18th-century literature at University College London. She has taught garden history at Birkbeck College, University of London, and landscape history at Central Saint Martin's School of Art in London, and she lectures widely on garden history.