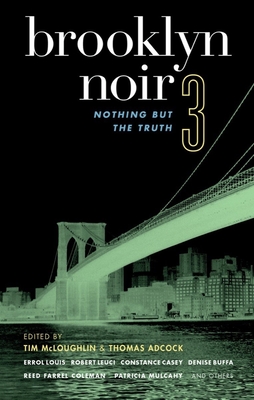 Brooklyn Noir 3 (Paperback)
Nothing But the Truth (Akashic Noir)
Akashic Books, 9781933354149, 249pp.
Publication Date: June 1, 2008
* Individual store prices may vary.
Description
Akashic Books continues its award-winning series of original noir anthologies, launched in 2004 with Brooklyn Noir. This volume presents the first nonfiction collection in the series, curated by acclaimed novelists Tim McLoughlin and Thomas Adcock. Brand-new stories by: Robert Leuci, Dennis Hawkins, Tim McLoughlin, Thomas Adcock, Errol Louis, Denise Buffa, Patricia Mulcahy, C.J. Sullivan, Reed Farrel Coleman, Aileen Gallagher, Christopher Musella, Kim Sykes, Robert Knightly, Jess Korman, Constance Casey, and Rosemarie Yu. "There is a difference, as editor, between cheering the literary accomplishment of a fiction writer who has delivered a brilliant story about a serial killer or hit man, and reading the true account, however beautifully written, of a young woman raped, murdered, and forgotten. So this book, though it has its light moments (and thank God for those), is for me the darkest of the Brooklyn Noir series. These pieces remind us that crime is personal. It happens to us and to our neighbors. Sometimes it happens because we do nothing to prevent it. Life does not always offer the moral arc we so desperately crave in fiction. If it did, we'd have no need for myths and fables, religion or miracles . . . "Read this book. Enjoy it. Be horrified by it. Carry it with you always. And the next time you're watching a particularly bizarre and salacious news item on the television set in your neighborhood pub, and the guy on the next stool says, "You can't make this shit up," smack him with it."
--Tim McLoughlin, from the introduction

About the Author
Tim McLoughlin was born and raised in Brooklyn. His debut novel, Heart of the Old Country (Akashic), was hailed as reminiscent of James T. Farrell's Studs Lonigan and George Orwell's Down and Out in Paris. He was editor of Brooklyn Noir, first in the Akashic Noir Series, as well as Brooklyn Noir 2 and Brooklyn Noir 3. An Edgar Award-winning novelist, Thomas Adcock is a veteran newspaper and magazine journalist. He divides his time between a Manhattan apartment and an eighteenth-century farmhouse in upstate New York.