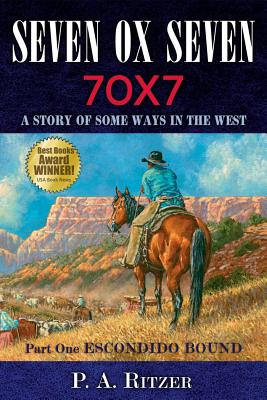 Seven Ox Seven (Paperback)
A Story of Some Ways in the West. Part One, Escondido Bound
Seven Ox Press, 9781933363035, 672pp.
Publication Date: June 1, 2011
* Individual store prices may vary.
Description
Seven souls risk everything to seek a home on the West Texas frontier. Will they discover a secret Eden, or have they embarked on a dangerous misadventure? Cowboys Luke Stuart and Tom Schurtz meet in the infamous Dodge City at the end of trail drives in 1877. Back in Texas, Luke and his wife, Elizabeth, divulge a plan to Tom. The Stuarts and Tom consequently partner up and venture out to establish an ideal ranch in the canyons region of the Llano Estacado, only recently (and not completely) vacated by the Comanche.They seek the mysterious Canyon Escondido, which may not exist. They have learned of it from the family lore of neighbors and the legends of their peoples, Apache and Mexican. In hope, the pioneers drive their herd across rolling plains, through notorious settlements and the wanton buffalo slaughter. Various challenges test their determination along the path they have chosen, not least so when they finally face the success or failure of their quest and what must then follow.
or
Not Currently Available for Direct Purchase