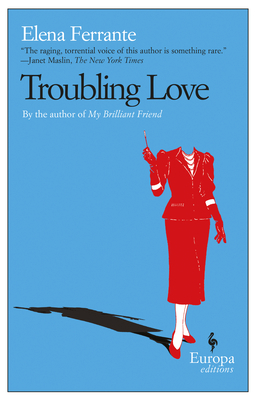 Troubling Love
Paperback

* Individual store prices may vary.
Other Editions of This Title:
Digital Audiobook (8/3/2015)
Description
Set in Naples, Italy, this debut novel by New York Times bestselling author Elena Ferrante (My Brilliant Friend, The Days of Abandonment) tells a story about mothers and daughters and the complicated knot of lies, emotions, and shared history than binds them.

Following her mother's untimely and mysterious death, Delia embarks on a voyage of discovery through the chaotic, suffocating streets of her native Naples in search of the truth about her family. A series of mysterious telephone calls leads her to compelling and disturbing revelations about her mother's final days.

As the New York Times wrote about this novel, "the raging, torrential voice of the author is something rare." Troubling Love is indeed a rare look into the abiding preoccupations and obsessions that bring millions of readers all over the world to her fiction. 
Praise For Troubling Love…
Praise for Troubling Love

"Troubling Love is a psychological mystery...Ferrante is fascinated by the moments when a personality—like a wire stretched too far from its power source—shorts and corrodes."
—David Lipsky, The New York Times

"A tour de force, Troubling Love is a harrowing tour of a feminine psyche under siege. Together with The Days of Abandonment, it confirms Ferrante's reputation as one of Italy's best contemporary novelists."
—Seattle Times

"With quick-paced mystery guiding the story, Delia explores her relationship with her mother, unraveling memories and secrets repressed since childhood and coming to terms with an upbringing filled with jealousy and violence...Troubling Love is vivid and powerful."
—Library Journal

"Ferrante's polished language belies the rawness of her imagery."
—The New Yorker

"Ferrante delivers a brutally frank tale about the dangerous intersection of rage and desire."
—Booklist


Praise for Elena Ferrante 

"Elena Ferrante's decision to remain biographically unavailable is her greatest gift to readers, and maybe her boldest creative gesture."
—David Kurnick, Public Books
 
"Everyone should read anything with Ferrante's name on it."
—Eugenia Williamson, The Boston Globe
 
"Ferrante has written about female identity with a heft and sharpness unmatched by anyone since Doris Lessing."
—Elizabeth Lowry, The Wall Street Journal 
 
"Ferrante has become Italy's best known writer. In our era of social media accessibility, shameless self-promotion, and hot young celebrity culture, this is nothing short of astounding."
—Gina Frangello, Electric Literature
 
"Ferrante's writing seems to say something that hasn't been said before—it isn't easy to specify what this is—in a way so compelling its readers forget where they are, abandon friends and disdain sleep."
—Joanna Biggs, The London Review of Books
 
"To disagree over the quality of a Ferrante passage is often to run up against what you cannot answer or digest."
—Jedediah Purdy, The Los Angeles Review of Books
 
"Who, in American literature today, deals with the subtleties of class difference in such a painful and sensitive way, while achieving even a fraction of Ferrante's massive popularity? . . .  We must go to the fictionalized Naples of Ferrante to read the story we want to believe can happen again in our country."
—Alissa Quart, BuzzFeed
Europa Editions, 9781933372167, 144pp.
Publication Date: September 1, 2006
About the Author
Elena Ferrante is the author of The Days of Abandonment (Europa, 2005), Troubling Love (Europa, 2006), The Lost Daughter (Europa, 2008) and the Neapolitan Quartet (Europa 2012-2015). She is also the author of a children's picture book illustrated by Mara Cerri, The Beach at Night.

Ann Goldstein is an editor at The New Yorker. Her translations for Europa Editions include novels by Amara Lakhous, Alessandro Piperno, and Elena Ferrante's bestselling My Brilliant Friend. She lives in New York.