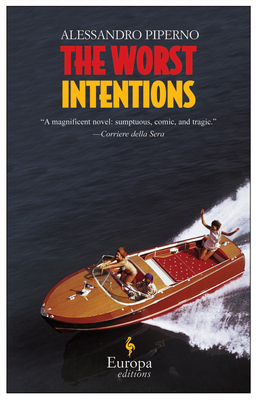 The Worst Intentions (Paperback)
Europa Editions, 9781933372334, 307pp.
Publication Date: July 1, 2007
* Individual store prices may vary.
or
Not Currently Available for Direct Purchase
Description
Daniel is the thirty-three-year-old heir to the checkered fortunes of the Sonninos, a Jewish-Italian family whose staggering rise and fall provides the backdrop to this remarkable tragicomedy. Daniel is on bad terms with himself, having inerited both his grandfather's extravagant passions and his father's glum servility. He is prone to the excess typical of his class--despite his family's crumbling textile empire--and is victim of a crippling infatuation with Gaia, the fountainhead of his erotic fantasties and fetishes. In Piperno's urgent, explosive writing, Daniel Sonnino emerges as an unlikely hero in a modern saga of personal liberty and public ritual, love and war, sex and betrayal, sin and forgiveness, set in the opulent neighborhoods of contemporary Rome. Winner of the prestigious 2005 Campiello Prize for Best First Novel and the 2005 Viareggio Prize, The Worse Intentions was the most talked-about debut for an Italian novelist in decades. It sold 80,000 copies in its first two weeks of publication, prompting Italy's leading daily newspaper to describe it as "a dangerous novel...Right from the title, this daring book proclaims the furiously bellicose and iconoclastic spirit that drives it." (La Repubblica) Reminiscent of Philip Roth's Portnoy's Complaint, The Worst Intentions is a lavish, important novel by one of Italy's most talented and promising young writers.
About the Author
Alessandro Piperno's 2005 novel, The Worst Intentions, won the Campiello Prize for First Novel and became an instant bestseller in Italy, where Corriere della sera described its author as "a new Marcel Proust." The New Yorker wrote that The Worst Intentions was a "wickedly scathing debut, a coruscating mixture of satire, family epic, Proustian meditation, and erotomaniacal farce." Persecution, the first installment of a diptych entitled The Friendly Fire of Memories, is his long-awaited second novel.
Advertisement