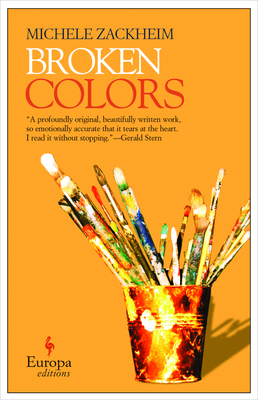 Broken Colors
Paperback

* Individual store prices may vary.
Europa Editions, 9781933372372, 288pp.
Publication Date: October 1, 2007
About the Author
Michele Zackheim lives in New York City.
Broken Colors is a novel punctuated by a speckling of quotes from famous authors and writers. Do the quotes help develop the theme of the novel?
What is the correlation between travel and age in this novel? Does Sophie's constant relocating match her shifting emotional landscape, and are the two inextricably tied? Is Sophie in Paris different then Sophie in the American Southwest?
If Sophie's grandfather hadn't taught her to paint, would she have turned to art as a necessary form of expression?
Early in the novel, Sophie meets a fellow painter, Major Roderick, whose face is grotesquely disfigured with partial vision. What is the significance of this character at that point in Sophie's journey?
What was your reaction when Sophie first met Luca? Is it important that they're both artists?
How do you feel about setting art against the backdrop of war and loss? Does it make art feel like a more vital human resource?
On page 230, Sophie explains what the term 'broken colors' means? Do you think the book is aptly titled? Is this a strong metaphor for Sophie's life?
As a reader, were you rooting for the character of Luca to return to Sophie's life? Were you surprised by his re-introduction in the latter part of the novel?