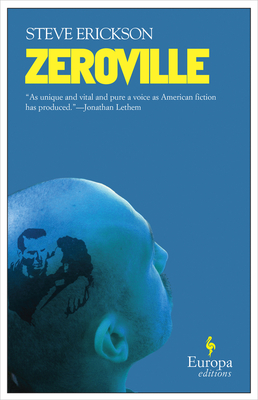 Zeroville (Paperback)
Europa Editions, 9781933372396, 352pp.
Publication Date: November 1, 2007
Other Editions of This Title:
Digital Audiobook (12/11/2014)
MP3 CD (12/12/2014)
Compact Disc (12/12/2014)
Compact Disc (12/12/2014)
* Individual store prices may vary.
Description
A Los Angeles Times, Washington Post, and Newsweek Best Book of the Year

It is an August afternoon in 1969. A hippie "family" led by Charles Manson commits five savage murders in the canyons above L.A. The same day, a young, ex-communicated theology student walks Hollywood Boulevard, having just arrived in town with the images of Elizabeth Taylor and Montgomery Clift tattooed on his shaved head. 

At once childlike and violent, Vikar is not a cineaste but "cineautistic," sleeping in the Roosevelt Hotel where he is haunted by the ghost of D. W. Griffith. He has stepped into the vortex of a culture in upheaval: drugs that frighten him, a sexuality that consumes him, a music he doesn't understand. He's come to Hollywood to pursue his obsession with film, only to find a Hollywood that's as indifferent to film as it is to Vikar.

While the movies have appeared in a number of Steve Erickson's novels, from Days Between Stations to The Sea Came in at Midnight, they dominate Zeroville with the force of revelation. Over the decade of the seventies and into the eighties, as the old studios crumble before the onslaught of a new renegade generation, Vikar becomes an unlikely film editor, possessed of an astonishing artistic vision. Through his encounters with starlets, burglars, revolutionaries, escorts, punk musicians and veteran film-makers, he discovers the secret that lies in every motion picture ever made. Combining an epic scope with popular accessibility in the spirit of its subject, Zeroville is the ultimate novel about the Movies, and the way we don't dream them but rather they dream us.
About the Author
Steve Erickson is the author of several novels, including Tours of the Black Clock, Rubicon Beach, The Sea Came in at Midnight, Our Ecstatic Days and Arc d'X. His novels have been translated into ten languages. Erickson is the editor of the literary magazine Black Clock, published by the California Institute of the Arts, where he teaches writing. He also is the film critic for Los Angeles magazine and the author of These Dreams of You (Europa Editions, 2012). He lives in Topanga Canyon with his wife and son.
Praise For Zeroville…
Praise for Zeroville

"It's simply impossible to explain the intent and the direction of this funny, disturbing, daring and demanding novel—Erickson's best. The set pieces in Zeroville are particularly breathtaking."
—The New York Times 

"At root Zeroville is a novel about the nitty-gritty mysteries of the artistic process and about the evolutions of an enthusiast into an artist."
—Los Angeles Times Book Review 

"Over his entire career Erickson has challenged readers with a fiercely intelligent and surprisingly sensual brans of American surrealism."
—Washington Post

"Since his first novel and now with Zeroville, his eighth—and best—novel, Erickson has been a singular voice in American fiction, for my money our most imaginative native novelists."
—The Nation

"As unique and vital and pure a voice as American fiction has produced."
—Jonathan Lethem, author of The Fortress of Solitude

"Steve Erickson has that rare and luminous gift for reporting back from the nocturnal side of reality."
—Thomas Pynchon, author of Bleeding Edge