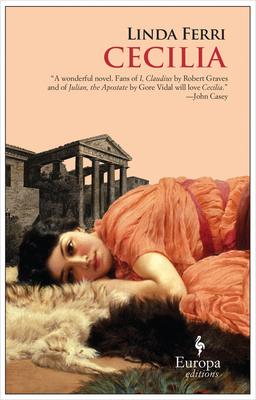 Cecilia (Paperback)
Europa Editions, 9781933372877, 288pp.
Publication Date: April 27, 2010
* Individual store prices may vary.
Description
Cecilia tells the story of a young woman's search to find her place in a world that is rife with social upheaval and religious conflict. Born ito a noble Roman family in the second century, under the rule of the last of the "five good emperors," Marcus Aurelius, Cecilia seeks knowledge with the urgency and awkwardness typical of her tender age. But in a society where a woman's freedom to explore her beliefs, talents and ambitions is severely limited, Cecilia's quest amounts to a constant and painful confrontation with the world around her. Searching for light in a time of darkness and for answers among warring ideologies and beliefs, including the nascent Christian faith that she ultimately embraces, though not without her doubts, Cecilia is both a product of her times and a young woman at odds with her surroundings.

In Linda Ferri's elegant prose, Cecilia tells the story of a soul's progress. It recounts an enthralling journey from a restless and searching child to a woman endowed with the strength to risk her own death in defense of her beliefs.
About the Author
Linda Ferri is the author of the novel Enchantments, a collection of short stories, and numerous books for children. She co-wrote the films: The Son's Room (Palme d'or 2001, Cannes), directed by Nanni Moretti; The Life I Want and Light of My Eyes, directed by Giuseppe Piccioni; and Along the Ridge by Kim Rossi Stuart. She lives in Rome.

Ann Goldstein is an editor at The New Yorker. For Europa Editions, she has translated several novels by Elena Ferrante, The Worst Intentions by Alessandro Piperno, and Clash of Civilizations Over an Elevator in Piazza Vittorio by Amara Lakhous. She is currently editing the complete works of Primo Levi, a project for which she received a Guggenheim Fellowship Award.