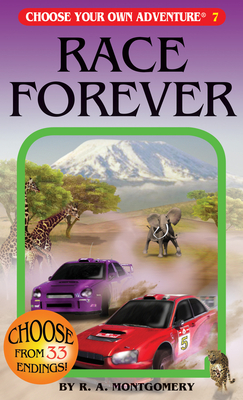 Race Forever (Choose Your Own Adventure #7) (Paperback)
Chooseco, 9781933390079, 122pp.
Publication Date: May 1, 2006
* Individual store prices may vary.
Description
DOES THE RACE FOREVER IN AFRICA SPELL THE BEGINNING OF YOUR FAME AS A YOUNG RACE CAR DRIVER, OR THE END OF YOUR CAREER? As soon as you could see over the steering wheel of an SUV, your father began teaching you about cars and driving. He is a former racecar driver himself. You have planned this trip to Africa for months but at the last minute your dad has to cancel. You are on in Africa on your own, facing some of the toughest driving conditions in the world. And some of the most unscrupulous competitors... This rally is special, Reupleau the race organizer tells you. There are actually two races. One tests speed over fast roads in race -prepared cars. The other is a rough road race. Speed counts too, but you will be driving off-road vehicles. If you decide to drive the speed race as your first race, turn to page 4. If you choose to drive the rough road race first turn to page 67. YOU choose what happens next.