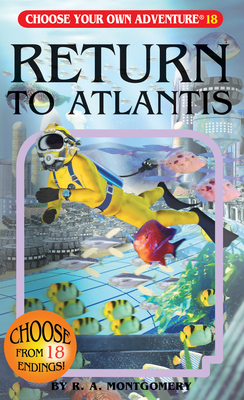 Return to Atlantis (Choose Your Own Adventure #18) (Paperback)
Chooseco, 9781933390185, 119pp.
Publication Date: May 1, 2007
* Individual store prices may vary.
Description
CAN YOU FIND THE LOST KINGDOM OF ATLANTIS AGAIN? OR IS IT A WORLD YOU NO LONGER RECOGNIZE? On your first solo journey to find the Lost Continent of Atlantis, you failed to bring back proof of your success. Many people think that you imagined the whole thing?or worse. Now you and your colleague Horton James III are returning to document this amazing other world. But back below the surface of the sea dangers abound. A treacher- ous king lures you to riches; rebel slaves lure you to help lead a revolt; and the evil Nodoors aim to capture you and keep you below...for good. The silver capsule hovers in front of your submersible. You could try to escape by making an emergency dive. Suddenly you remember that the Seeker II is equipped with a blaster. If you choose to attempt escape by making an emergency dive, turn to page 4. If you want to use the blaster to repel or destroy the silver capsule, turn to page 62. YOU choose what happens next.