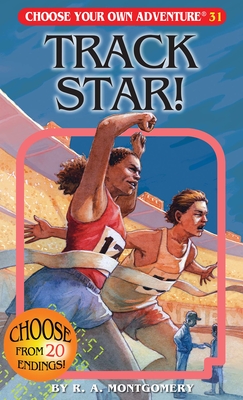 Track Star! (Choose Your Own Adventure #31) (Paperback)
Chooseco, 9781933390314, 133pp.
Publication Date: June 1, 2009
* Individual store prices may vary.
Description
YOU are an extremely talented young runner with a shot at winning a college scholarship. The competition can be very overwhelming, but you are lucky to have a coach who is supportive and pushes you to do your best. After a trial heat leaves you in third place, your coach makes a surprising suggestion: he thinks you should try a new energy shake with performance-enhancing drugs in it. "It may be your only chance to win," he tells you. You trust your coach, but you've always played by the rules. What should you do? As a young runner who has already gained celebrity status, you are surrounded by athletes of all ages who have taken different paths on their way to the top. What will you decide on the way to the race of your life? R. A. Montgomery's latest all-new Choose Your Own Adventure is inspired by his lifelong passion for athletics, as well as for the value of integrity and honesty in competitive sports. Chooseco has paired with the World Anti-Doping Agency to promote understanding of the choices young athletes must make in competition worldwide.