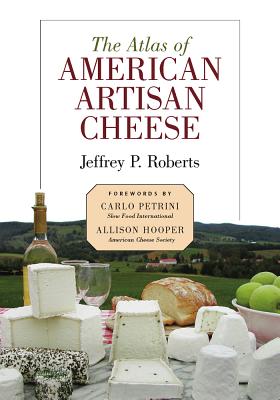 The Atlas of American Artisan Cheese (Paperback)
Chelsea Green Publishing Company, 9781933392349, 436pp.
Publication Date: June 22, 2007
* Individual store prices may vary.
Description
The Atlas of American Artisan Cheese is the first reference book of its kind and a must-have for every foodie's library. Jeffrey P. Roberts lavishes loving attention on the growing local food and farmstead movement in what is fast becoming a national trend. This fully illustrated atlas of contemporary artisan cheeses and cheese makers will not only be a mainstay in any cookery and cuisine library--guiding consumers, retailers, restaurateurs, and food professionals to the full breadth and unparalleled quality of American artisan foods--it will be the source of many a fabulous food adventure.
Organized by region and state, The Atlas of American Artisan Cheese highlights more than 350 of the best small-scale cheese makers in the United States today. It provides the most complete overview of what's to be had nationwide--shippable, attainable, delectable. Each entry describes a cheesemaker; its cheese; whether from cow, sheep, or goat milk; availability; location; and even details on cheese-making processes.
The Atlas captures America's local genius for artisan cheese: a capacity for adaptation, experimentation, and innovation, while following old-world artisanship. It is destined to become a classic resource and reference.
About the Author
Jeff Roberts lives in Montpelier, Vermont, and works in the areas of agriculture and food policy, conservation, and the environment. During his career, Jeff was a meteorologist, historian, and museum curator. At the University of Pennsylvania, he was director of development at the Morris Arboretum and from 1987-1994, Associate Dean for Development and Planning at the School of Veterinary Medicine. In 1995, he became the Vice President for External Affairs at the Vermont Land Trust. As a co-founder and principal consultant to the Vermont Institute for Artisan Cheese at the University of Vermont, he is responsible for development of international initiatives, public education programs, and marketing. For the US National Park Service, he is researching, photographing, and writing Stewardship Begins with People, a prototype compendium of national parks and their unique products. Jeff is active in Slow Food USA as a director and treasurer of the national board and a Northeast Regional Governor. He co-chaired "Artisan Cheeses of America" at Cheese 2001 and 2003 and the US presence at Salone del Gusto 2002 and 2004. He is one of organizers of Slow Food USA's American Raw Milk Cheese Presidium. Jeff is a frequent speaker on artisan cheese, sustainable agriculture, and the working landscape. He serves as a director of the Vermont Arts Council and previously was on the Vermont Fresh Network board.
or
Not Currently Available for Direct Purchase