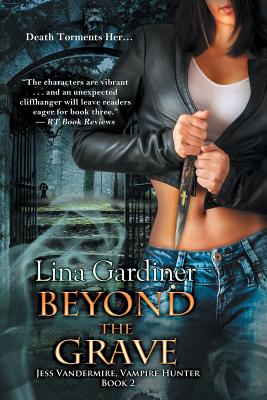 Beyond the Grave (Paperback)
Imajinn Books, 9781933417431, 184pp.
Publication Date: November 14, 2008
* Individual store prices may vary.
Description
Tough vampire cop, Jess Vandermire, fights against her unholy brethren in New York City to protect the two men she loves more than life itself. But Jess is waging a personal war, too-to save the tiny shred of soul she has left. If she loses, so does the city . . .

Women all over NY are dying by exsanguination and every one of them bear a striking resemblance to Captain Jess Vandermire, who cannot account for her whereabouts at the time of the murders.

John Brittain is black ops a vampire hunter serving under Jess, but their relationship is much more than professional. He withholds an incriminating piece of evidence found near a body until he can clear his lover of the crime.

Then there's Drago, who caters to a rich clientele at his exclusive club. He has a deadly secret-and a wealthy patron willing to pay $10 million just to have Jess . . .

Lina Gardiner, award-winning author of the Jess Vandermire, Vampire Hunter Series, has writing in her blood. Her books have been well received by such reviewers as Kirkus Reviews and USA Today's HEA blog, including a 4.5-star rating from RT Book Reviews and a nomination for a Romantic Times Reader's Choice Award. On the home front, Lina lives in New Brunswick, Canada, a hot spot for legendary ghosts, tall tales and odd happenings, which probably add to her love of a good mystery. The spooky stories her grandfather told his grandchildren in the "parlor" when their grandmother wasn't paying attention didn't hurt either...