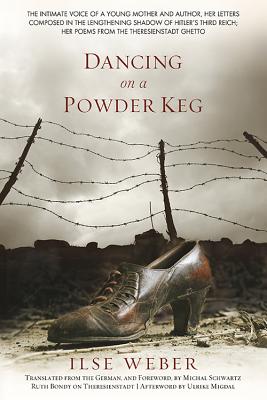 Dancing on a Powder Keg
The Intimate Voice of a Young Mother and Author, Her Letters Composed in the Lengthening Shadow of the Third Reich; He
Hardcover

* Individual store prices may vary.
Description
Dancing on a Powder Keg
Ilse Weber (translation: Michal Schwartz)
Publisher: Bunim & Bannigan Ltd, in association with Yad Vashem.
The Story of 'Wiegala' Songstress Ilse Weber - In Her Own Words NEVER-BEFORE-SEEN LETTERS DETAIL A YOUNG MOTHER'S LOVE, SACRIFICE & ARTISTIC LEGACY UNDER THE LENGTHENING SHADOW OF HITLER'S THIRD REICH
Before Hitler's Third Reich annexed and occupied Czechoslovakia, Ilse Weber was a young wife and working mother of two living in her ancestral town of Vítkovice, known throughout the German-speaking world for her extraordinary songs, theatre pieces, and books for children. A gifted poet, musician, and writer, following the Nazi occupation of Czechoslovakia in 1939, Ilse and her husband, Willi, were able to get their oldest son, Hanuš, to safety via a 'Kindertransport' to London - where Hanuš would be cared for and protected by the daughter of a Swedish diplomat and friend of Ilse's, Lilian von Löwenadler.
A carefully translated, painstakingly constructed collection of letters exchanged between Ilse and Lilian during the years 1933-44 while the lengthening shadow of the Nazi regime bore down over Europe, Dancing on a Powder Keg - set for release on January 15, 2017 via publisher Bunim & Bannigan, Ltd. - tells a one-of-a-kind, viscerally powerful story of unique friendship, dire historical circumstance, and the courage of a gifted woman in the face of unimaginable evil.
From Ilse's time in Prague's Thersienstadt Ghetto (where she worked in the children's infirmary, entertaining her young patients with songs on her contraband guitar) to her voluntary transportation to Auschwitz (where she and her son, Tommy, were ultimately killed in the gas chambers in 1944), the publication of Dancing on a Powder Keg has only been made possible by discovery of Ilse's letters in a London attic. The poems were hidden in Thersienstadt, and later retrieved and preserved by Ilse's husband, Willi, and son, Hanuš, who were reunited in the autumn of 1945.
Bunim & Bannigan Ltd., 9781933480398, 364pp.
Publication Date: January 15, 2017
or
Not Currently Available for Direct Purchase