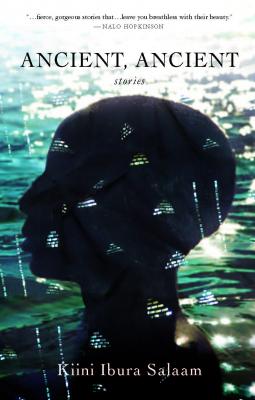 Ancient, Ancient
Short Fiction
Paperback

* Individual store prices may vary.
Description
Ancient, Ancient collects the short fiction by Kiini Ibura Salaam, of which acclaimed author and critic Nalo Hopkinson writes, ''Salaam treats words like the seductive weapons they are. She wields them to weave fierce, gorgeous stories that stroke your sensibilities, challenge your preconceptions, and leave you breathless with their beauty.'' Indeed, Ms. Salaam's stories are so permeated with sensuality that in her introduction to Ancient, Ancient, Nisi Shawl, author of the award-winning Filter House, writes, ''Sexuality-cum-sensuality is the experiential link between mind and matter, the vivid and eternal refutation of the alleged dichotomy between them. This understanding is the foundation of my 2004 pronouncement on the burgeoning sexuality implicit in sf's Afro-diasporization. It is the core of many African-based philosophies. And it is the throbbing, glistening heart of Kiini's body of work. This book is alive. Be not afraid.''
Praise For Ancient, Ancient: Short Fiction…
'Kiini Ibura Salaam's collection of short fiction, Ancient, Ancient, demonstrates that she deserves to be considered one of today's most promising contemporary genre writers. With writing that challenges assumptions on gender, the nature of fantasy, the uses of myth and much more, she offers the readers stories that they will not soon forget. A marvelous introduction to a marvelous writer.''--Jack Womack, author of Random Acts of Senseless Violence


''Kiini Ibura Salaam is a natural-born storyteller and a gorgeous writer who chooses her characters and words with the care and skill of a poet. Her stories are transformative, wise and vivid with the quality of fantasy and fable. I loved reading this!''--Sheree Renee Thomas, author of Shotgun Lullabies: Stories and Poems and editor of the award-winning Dark Matter anthologies



Salaam's collection of 10 reprints and 3 original stories introduces readers to alternate worlds built around magic, sensuality, sexuality, and the search for emotional comfort, however tenuous. A lusty god temporarily bestows his sexual spark on a worn-out and unappreciated young woman in ''Desire.'' The world of mothlike aliens who feed on the heated ''nectar'' of human sexual energies is explored in three linked tales. A young man's grandfather sends him time traveling into danger as a punishment in ''Battle Royale,'' while ''Rosamojo'' is a straightforward revenge story about a young girl who uses magic to punish her rapist father. Unearthly magics frame ''Ferret,'' an intriguing snippet about a space colony ship guided by animal divination, and ''Marie,'' in which a pregnant Creole woman is willing to sacrifice anything to feel at home in New York City. Salaam's unusual settings and lonely characters will call to readers who hunger for sex, identity, or just a place to belong. (May) --Publishers Weekly

Aqueduct Press, 9781933500966, 253pp.
Publication Date: May 1, 2012
or
Not Currently Available for Direct Purchase