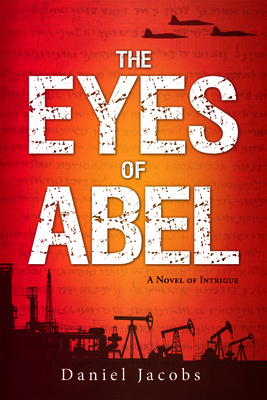 The Eyes of Abel (Paperback)
Hundreds of Heads Books, 9781933512327, 198pp.
Publication Date: August 6, 2013
* Individual store prices may vary.
or
Not Currently Available for Direct Purchase
Description
If truth stared you in the face but everyone called it a lie, would truth survive?
Pulitzer Prize winner Roger Charlin prepared for intense worldwide attention following publication of his next explosive expose. It never crossed his mind that, instead, a seductive Israeli agent would lead him on a twisted roller coaster ride through the citadels of world power, energy resources, and truth.
What secret nuclear project is underway on Princeton's campus? How much does Charlin know about the woman he's falling for? How do they all connect? The drums of war in the Middle East reach a feverish pitch, and Charlinonce just a reporter of historyis now in a frantic race against time to shape it.
Daniel Jacobs The Eyes of Abel is a factually inspired, powerful, and prophetically captivating thriller about passion, the media, geopolitics, and international intrigue. Beyond the gripping pages, it challenges our understanding of the borders between fact, fiction, and the news.
About the Author
Daniel Jacobs served as a surgeon in Israel's largest hospital and as a medical officer in an elite airborne extraction unit of the Israeli Air Force. He brings to his writing a perspective informed by research, personal experience, and a challenge to the lens through which the world has viewed the Middle East. He currently practices medicine in California, where he is at work on his next novel.
Praise For The Eyes of Abel…
"This book is two reading treats in one: a thrilling page-turner stocked with uniquely compelling charactersand a sophisticated, thought-provoking look at the conflict in the Middle East, and how it's covered by the media."
Danny Mogulof, Former Middle East Bureau Chief, CBS News

"[T]akes Israel to the brink in a political thriller"
The Jewish news weekly of Northern California

"The Eyes of Abel is a gripping tale of the tension between love and political intrigue. Jacobs' thought-provoking debut novel provides an eye opening prism that shines a new light on the conflict in the Middle East while keeping me turning the pages late at night."
Jeffrey Small, Bestselling Author of The Jericho Deception and The Breath of God

"I have made a career analyzing good and bad stories. Jacobs has woven a winner in the gripping tale of The Eyes of Abel. I can't wait for the film!"
Ruth Perlmutter PhD, Film scholar Temple University, University of the Arts and University of Pennsylvania

"This factually-based international thriller will have you questioning your views on Israel, journalism and the oil-producing countries....Jacobs ratchets up the suspense in this very plausible story of developments capable of impacting the entire globe. He does not defend Israel but demonstrates how dangerous ingrained assumptions and beliefs can be. He engages us to question our own objectivity. This is not only a good suspense, but a book that will be relevant for anyone facing prejudice because of the policies of their government. Just think how often Jews and Muslims are forced to defend political and religious practices!"
Arab Vistas Today

"This is one powerful novel that will create much discussion and controversy over the material offered. It's definitely a must read."
Synchronized Chaos
Advertisement